Composite doors how green is their carbon footprint today?
It seems but a few short years ago, that the "buzz" words for any manufactured product was" the Carbon footprint" and here at GFD Group we wrote a number of blogs extolling the virtues of our various products –
Composite Doors V Wooden doors some frequently asked questions
How do I know my Door is a Solidor
These two came from way back in 2014 when everything had to be as green in origin as possible and anything with a carbon footprint was frowned upon. Three years on and times have changed the emphasis is now on quality of product and service and many companies have abandoned the ecology train but not we at Timber Composite Doors our number of door styles may have increased along with the choice of colours and accessories but we still remain firm to the "ECO credentials" of the door – it is still manufactured in the UK it still uses timber from sustainable sources and invests are still made in respect of the forests the timber comes from, the manufacturing is if anything more refined and the green recycling/ disposal policy is still in force.
We cannot and would not pretend that every product and every process that goes into the manufacturing of our composite doors is ecologically perfect but we can say that that which was true in 2014 has been improved upon.
The manufacture of our product is only one side of the ecology story, many consumer based products are short lived and require replenishing in a very short period of time but not a Solidor door from Timber Composite Doors we expect all of our doors to last for circa thirty years subject to reasonable fair wear and tear, there are not many household products that could boast a similar lifespan. During a thirty-year life span you would expect to redecorate a comparable timber door at least every two years and that's a lot of carbon footprint in the paint manufacture and emissions – with a Solidor Composite Door a wipe with a damp cloth every few weeks – impact upon the environment – NIL
Whereas the green credentials of others may have slipped with the rapid expansion in the use of solid polyurethane cores in the manufacture of composite doors ours has actually improved, a small step in the vastness of the problem, maybe, but a positive step on the part of Timber Composite Doors
The number of styles available in each of our range of doors continues to expand, there are thirty-two traditional styles and twenty-four contemporary styles when all of the variations are accounted for the majority of these styles can be adapted to provide stable or French style doors and as they are all available in a range of twenty colours we are pretty certain that we have a door to suit every prospective customer.
One of the reasons in addition our knowledge of the quality of the installation that we are able to happily state that our doors will last thirty years is the fact that we have every door strenuously tested to ensure that they comply with both PAS 23 & 24 accreditation (the one to protect against criminal attack) and "Secured by Design" (the standard approved by the Police and Insurance Companies)
We at Timber Composite Door support the view that the survival of the ecology of the planet has to be a priority for all mankind but in the short term we also support the view that we have to sell doors to put bread on our tables today and when we have doors that look as good as these –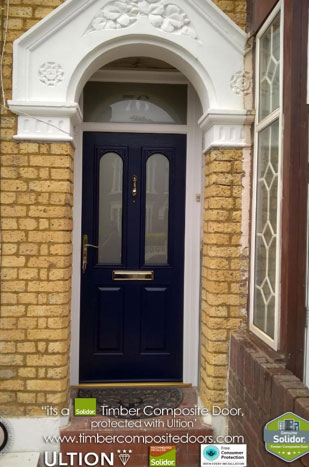 A Blue "Nottingham " with top box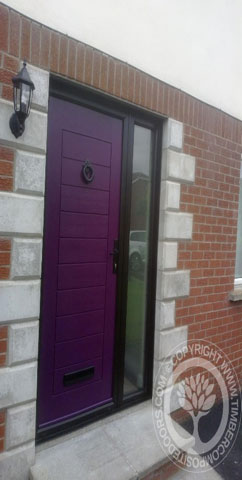 An Aubergine "Windsor" solid
When you buy a composite door from Timber Composite door the one promise that we can make both you the new owner and the environment is that if you care for your door the way we should all care for the environment this door will last a life time