Timber Composite doors and frames – the perfect match
A pair of matched horses they look good together and they work well together.
Look good together and work well together is not phrase which we would normally associate with doors – a fact we should maybe reconsider.
When we think doors we invariably think only of the door itself, style, colour, accessories because they are the components that can provide the "wow" factor whereas the poor old frame, that is simply there to hold the door in place – not so! A poorly manufactured or badly fitted door frame can destroy the appearance and performance of any door, allowing draughts in and failing to keep the elements out.
All our doors at Timber Composite Doors are factory engineered as a composite unit, not just a composite door but a combined unit where the frame and door are matched in the factory to ensure that they integrate perfectly, with draughtproofing already installed, to ensure that when they eventually reach your home you can be assured of a secure weather and draught proof seal between door and frame exactly as our customers expect.
By marrying door and frame in the factory we can ensure that the frame is square and that the door hinges are pre drilled to ensure that the door will itself sit squarely within the frame without twists or bows and probably more important we can control the addition of the key metal core reinforcement within the frame, as this is the item which gives the frame its strength and provides a firm base for all screw fixings.
The vast majority of doors we at Timber Composite Doors sell are a simple door and frame combination which invariably look stylish and meet perfectly with the needs of our customers – doors that look as good as "London" in Chartwell Green – an image lifted straight from the Gallery Page of our web site where we display hundreds of photographs of actual installations carried out by our specialist installation teams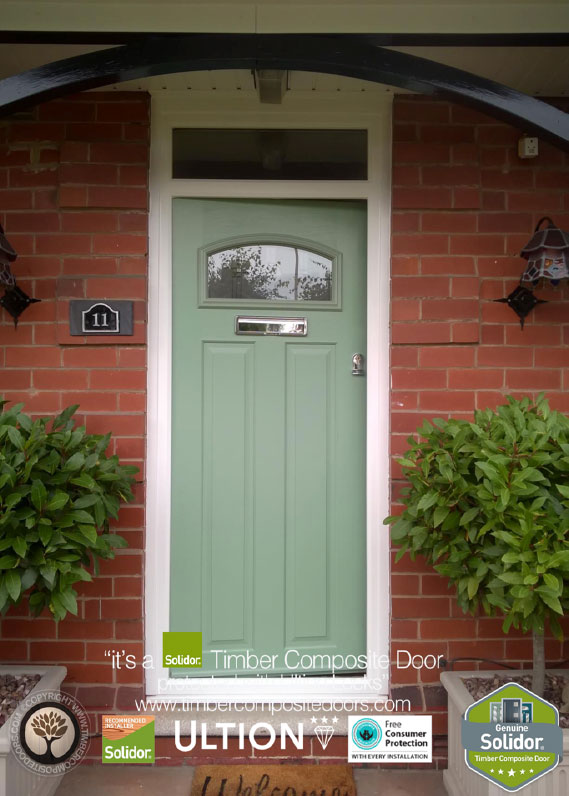 A simple door and frame is ideal for many homes but not for all – many particularly older period properties have a complex arrangement of a door with associated sidelights and overhead panel lights – which have restricted the property owner from considering a new front door because of the problems that could be associated with replacing a complex frame. At Timber Composite Doors we believe that the door and frame should be a perfect match no matter how complex the frame may be with or without side or top lights and to date we have yet to be faced with a formation of side and top lights that has defeated us.
When we invite potential customers to use the "Quick quote" drop down on our Home page they enter the world of door design where they the customer are the architect of their very own bespoke door and frame – our door designer is as user friendly as we can make it, it's simply a case of following the instructions. First select whether you want a "Traditional", "Contemporary" etc door and the very first choice you have to make is to select your frame – with fourteen configurations there is something which will fit the most complex of openings – if you can find your configuration give one of our Sales team a call and talk it through with them we are sure we can find a solution.
Once you have selected your configuration, our web site "door designer tool "does the reminder of the hard work – match your door and frame colours, match your door and frame glazing – change your mind and you can edit your design and at the end of it all you will have the door which you actually want a door that could look as good as either of these two beauties (lifted from our Gallery Page)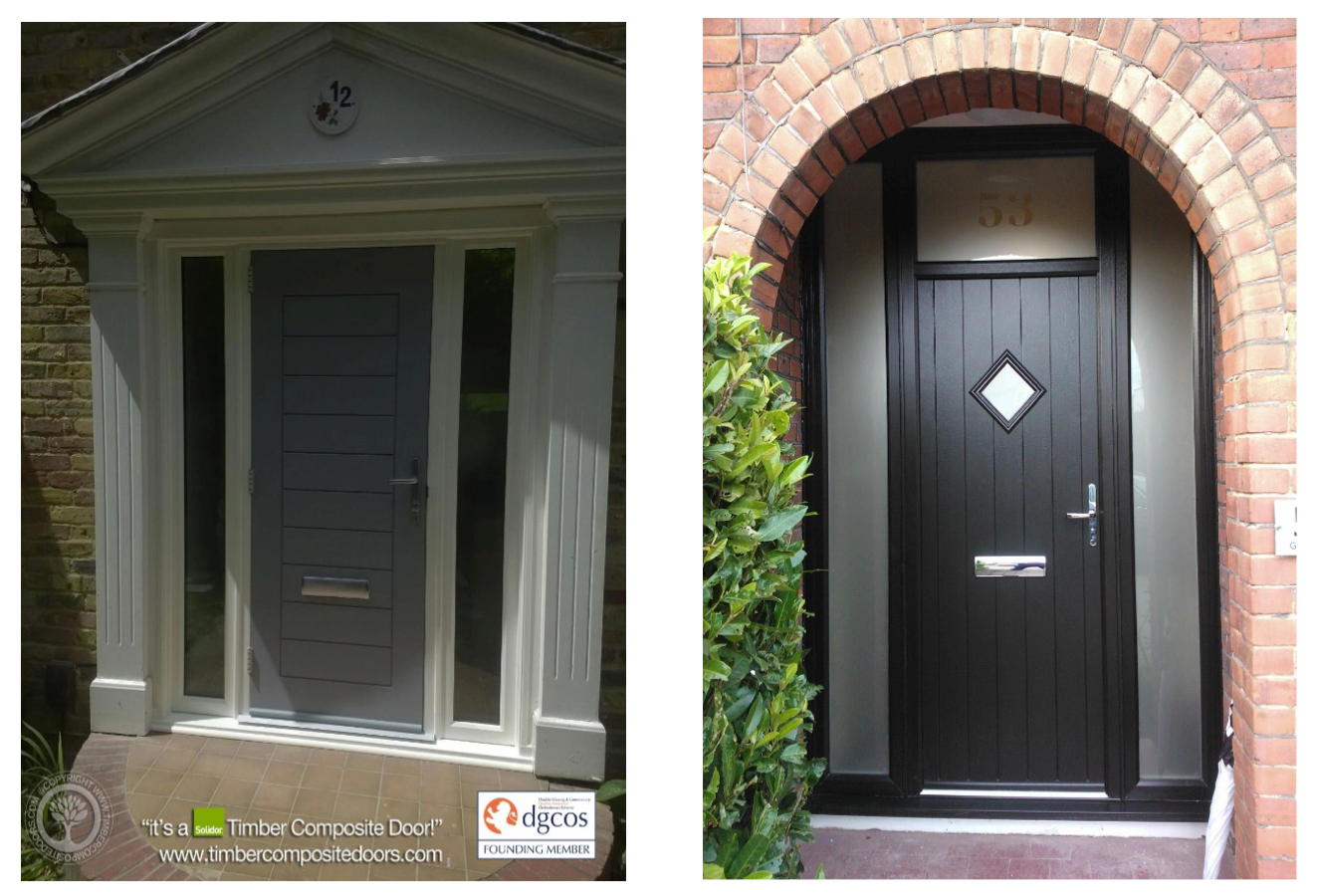 The frame is sorted, stage one is complete, the frame is sorted, the real fun starts from here this is where your options start use our "door designer tool" to create the door of your choice review our range of –
Styles colours and accessories which actually runs into at least a "billion" options which we know sounds ridiculous and which we ourselves thought was ridiculous until we tried to work it out – its all there in our blog "Solidor Composite Front door one billion options"
At Timber Composite Door, our aim is to make choosing the perfect door and frame as easy as we can for our customers so as they have no concerns as to whether the door will fit the frame. We are also aware that the main cause for concern of the majority of our customers is actually taking the dimensions of their door and frame and conveying that information to ourselves which is why if you select our installation service we take the responsibility for everything. Upon receipt of your order you will be contacted by one of our Surveyors who will visit your home check out all the dimensions and possible hazards and only once we are sure your door can be installed knowing it will fit will we commence the manufacture. As a further point of reassurance, we instruct all of our installation teams to measure and double check all sizes to ensure that your new timber composite door and frames will fit perfectly before they start stripping out your existing door, we pride ourselves in not making mistakes that can be avoided.
Timber Composite doors and frames personalised to your preference truly the perfect match.