The things we take for granted-
Every time we open and close our front door and then unlock our car door and turn on the ignition and drive off we simply take it for granted that-
The front door lock will work and allow you to open the door
The hinges will not stick and prevent the door from opening
The car door lock will give the tell-tale thud that tells you it has released and the handle and hinges will allow the door to open
The ignition will fire the engine of your car
But what if one or all of the above failed to work – would we know what to do? have we taken any preventative measures to minimise the chances of these disasters happening?
Here at GFD HQ we know a thing or two about doors and their operation that is Composite Front doors so we may just be able to assist – if it's your car our best advice would be that you find a good friendly and reliable motor mechanic.
Door and window  locks are an integral part of your home security – no locks = no security
checking and some form of basic maintenance is the sort of simple annual chore that could save you from a lot of heartache and inconvenience later- the end of the summer is probably the best time to consider for this task – while the nights are still relatively light and warm and you actually still enjoy doing outdoor tasks. Come the winter months as the nights draw in and the days are shorter and colder the majority of us are less inclined to do outside DIY tasks – there is of course an exception to every rule and cometh the dark winter nights cometh the burglar , the risk of being burgled actually rises by 63%. In winter months.
Checking your locks is normally a relatively straight forward task –
First take a tour of your property and create a list – not just the obvious front and back doors – you probably also keep some expensive equipment in your garage or shed so do not forget them – the list should also include any particularly vulnerable windows (normally the ground floor) and any padlocks door chains or the like – everything deteriorates with time and you want them to work when you need them most.
Once you have drawn up your list of all locks, you can take a little more time to examine them one by one to check and clean them – we know it seems a bit of overkill to record them all but it's one way of knowing that you have not overlooked any – if you diligently record their operation, when you last checked or replaced etc.
So, what do you do to test your locks? It's actually a bit of a repetitive task but here are the key things to look for.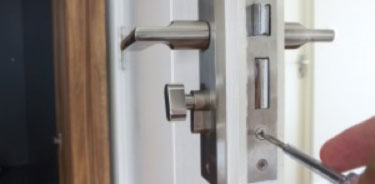 Test your locks
Locks and handles are essentially held in position by screws – make sure that tall screws are present and secure that handles are well fitted secure and in good condition and operating satisfactorily. If some part of the operation is not working to your satisfaction and you cannot repair it or replace the defective part – call in a locksmith.
If when you lock and unlock the door/window, the locking mechanism sticks or makes a noise it is probably time to lubricate your lock. There are a number of proprietary release oil sprays on the market and it is surprising how quickly the operation of your lock or handles may improve with a minimum of lubrication. If lubrication does not resolve the issue it may indicate a more serious problem which will need to be looked at by a professional.
Check the key operation for smoothness of operation if you have to jiggle it in order to lock or unlock the mechanism this could be because you are using a poorly cut copy key which may cause the lock mechanism to break internally after a certain amount of time. Where possible it is preferable to use only the original keys and where replacements are required these should only be cut using reliable stocks and an original key – NOT A COPY
Do you know how many keys you have for each lock – most of us don't it's well worth recording who has what – if one of your keys falls into the wrong hands it could spell disaster. Always keep spare keys safe and securely locked away – if you lose one it may be easier to replace the lock than go through the anxiety and worry of knowing your home could be vulnerable.
If you have to lift, push or pull the door/window in order to secure/ open your lock this will probably mean that something has moved and you have an alignment problem. Many modern locks and hinges can be re aligned by adjustment (not always an easy task for the DIY expert) If the problem persists particularly with the door it may well be worth considering having your door re fitted by an expert.
As a general rule when locks are left for years without being properly cleaned, dirt and grime can build and cause the inner mechanism to stick, keys to become harder to turn all of which may eventually put stress on certain components, with the consequences of severely shortening the lifespan of the lock and putting you at risk of it breaking at the most inconvenient time. Everyday maintenance is simple –
always
Wipe any dirt or grime around the lock itself and use only cleaning agents that are compatible with the material and avoid getting any cleaner inside the lock, as this can cause abrasion and damage to the mechanism.
Never
Spray water or cleaner directly into the lock hole.
To keep the inner mechanism clean and lubricated, use only proprietary lock cleaning and lubricating products
And then we have the expensive part of the operation – locks and hinges as with most products – evolve a new door or window will have new operating mechanism but even locks from as recently as pre 2008 could have internal mechanisms where the lock can be "snapped" without specialist equipment, if you have to lift the handle to lock your front door, then it's likely you have one of these locks.
We would suggest that the older your lock the sooner you consider replacing it and a cursory look at the internet or lock advertising will quickly identify the perils of lock, bumping , forcing and snapping but there are new locks available which all but eliminate these possibilities here at GFD Group which comprises Timber Composite Doors, Global Door , Composite Door Prices all of our doors come with the Ultion lock as standard (launched late 2015 and considered the most secure lock for domestic properties)
If you have to replace your locks this is the one we would recommend and it is readily available (along with an approved key cutting service) through another GFD Group company Eurosecure
where you will find all your home security needs – for instance –
securing your French doors is easy with the Patlock
Windows can be secured with the Sash Jammer
And do not forget the Padlock when it comes to securing sheds etc
For that extra security to your external doors, you can install additional bolts at the top and/or bottom of the door., together with Door chains and spy holes and for your garage doors door defenders prevent your door from opening even when your lock has failed.
Here at GFD Group we take the security of both our existing customers and prospective customers very seriously and our team is always available to advise – we take it as part of our mission to keep our customers as updated as possible in matters related to security by regularly adding articles/ blogs to our web sites – some that may be of further interest with regard to your continued security are-
From our Eurosecure web site
For when the unwanted intruder wins – a few helpful hints 
From our Timber Composite Doors web site
From our Global Door web site
AT GFD Group our primary business is selling quality composite doors so if you take the time to check out our security articles / blogs why not stay a little longer on your chosen web site and check out the abundance of information about our doors – a new door from one of Timber Composite Doors, Global Door , Composite Door Prices might just be the best security investment you make this year or any year.