What would you spend it on?
With Christmas approaching and the days getting shorter and the nights longer, winter can be a pretty depressing time and its things like the festive decorations with which people adorn their homes that can take the edge off the gloomy months or at least 5-6 weeks of them depending upon when decorations go up or come down.
The amount that individuals spend can vary dramatically from tens of pounds to literally thousands so here's a thought.
The Christmas fairy comes a knocking and says "brighten up your home and here is £1,200 to get you started" What would you spend it on?
A multitude of decorations that light up your home like Blackpool Illuminations and no doubt will massively increase your winter quarter electricity bill.
Here at Timber Composite Doors we admit to being biased but if the Christmas Fairy offered us £1,200 it would not be lights we would purchase it would be one of our own superb Composite Front Doors which are guaranteed to brighten up any property.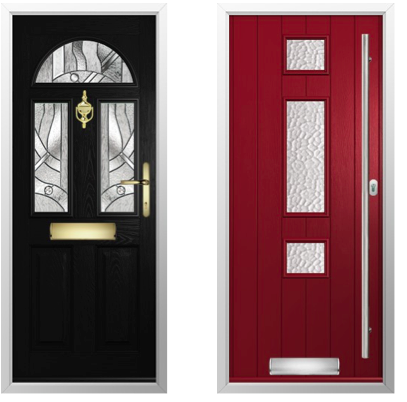 A door such as a Cotswold 3 in black with Abstract Glazing
Or
A Genoa in red with contemporary accessories
Either of which would brighten up any home and they are only two of the vast range that Timber Composite Doors can provide.
So which would you choose –
The lights that will look good for five or six weeks per year are very high maintenance and cost you money in increased electricity bills each and every year you use them –
Or
The new door that will look good 24/7 for fifty-two weeks per year with an expended life span of up to thirty years – a door which requires next to no maintenance and which the longer you own it the more money it will save you by cutting out draughts and the benefits you will obtain from its superb thermal insulation qualities – plus and probably the most important it will keep both your family and yourself safe and secure from the weather and unwanted intruders.
As we said we at Timber Composite Doors are biased but we think it's a "no brainer" for us it's the door every time and any spare cash will provide a nice little Xmas wreath for those five or six weeks a year.
When you visit the Timber Composite Doors web site to check out our range take a look at our excellent 0% finance deals just the thing to spread the financial load (subject to qualification) and our superb installation package – you will definitely think all your Christmases' have come at once when see the choice of styles and colours and accessories that you are able to choose from.
The only downside we can see is – if you want to impress your family and friends with a new front door rather than Christmas lights this year – you had better get your order in quick – just like a certain Mr S Claus we have a packed schedule and the Timber Composite Door elves are working flat out to fulfil all of our orders.