World Happiness day Friday the 20th March 2015
So many clichés so many well meaning words
"The happiest of people do not have the best of everything they just make the best of everything"
"Happiness is a journey not a destination"
"Happiness is not the absence of problems it's the ability to deal with them"
"It's not how much we have but how much we enjoy, that makes happiness"
One or all of the above will apply to all of us but the one thing we know for certain here at the GFD Group is as it applies to each and every one of us –
So what makes you happy –
A beautiful sunrise or sunset
The smile of a child
A moving piece of music
Watching the natural world as the seasons change
Your favourite sports team winning
Everyone has something different that makes them smile
At Timber Composite Doors the thing that makes us happiest of all is simple – making our customers dreams of new front doors come true – for us doors are everything and when our customers tell us as they frequently do just how much they love our doors and our service that's what makes us smile. The comments that do it for us can be found in our Trust Pilot Testimonials – they are independently collected and collated so we have no input – but we sure do like the results Real customer, real comments with a repeating theme –Great Price, Great Product, Great Service, what's not to make us happy.
The Solidor range of doors provide us with an excellent product, our relationship with our installation company, means that we know the quality of insulation will be good and we believe our customer service is up there with the best because we are constantly striving to improve because we know that the better we are at what we do the happier our customers will be.
At Timber Composite Door we want to make all of our customers happy which is why we offer them so many stunning door options take a look at them all at our gallery page at https://www.timbercompositedoors.com/solidor-compositedoors/
And here are a couple of our personal favourites –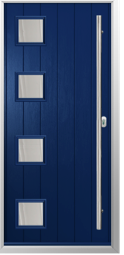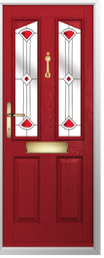 The Milano in Blue                        The Harlech in Red
Happiness is a door from Timber Composite Doors.