Take for instance Mr F of Lindfield (we may be NE of England based but we supply and install throughout the UK) he was not looking for a radical change but he must have thought that his old door was looking tired because when he chose the replacement for his existing four panel door with the top two lights glazed he opted for a like for like change by selecting one of our Ludlow doors from the Solidor range a door which also has four panels with the top two glazed.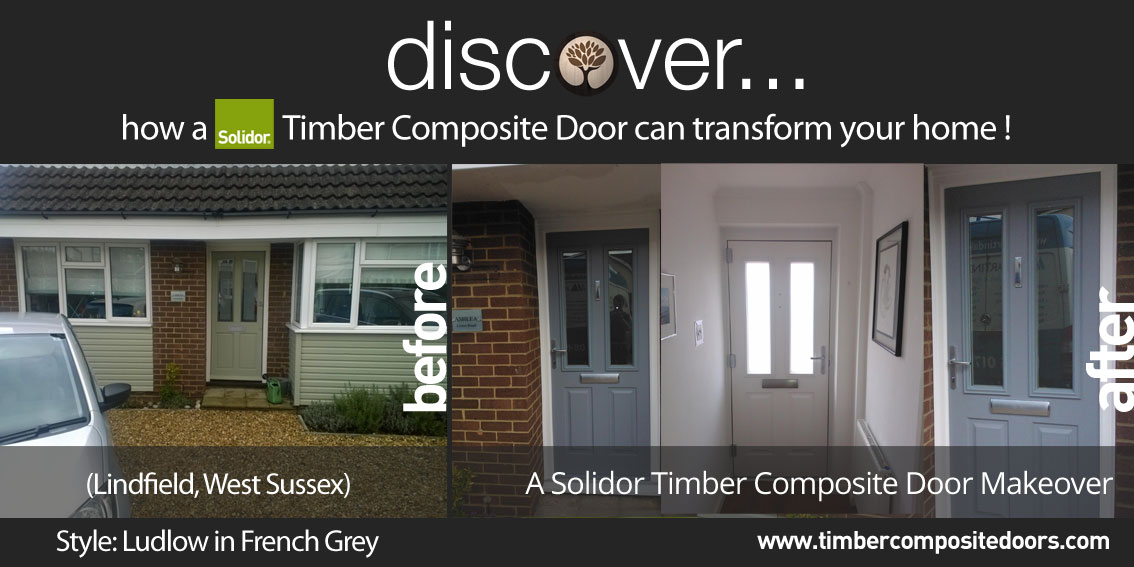 Before                                 and     After Timber Composite Door worked their magic
Similar style, different colour, glazing and accessories but a whole new clean fresh look to the front of Mr F's home
The Ludlow –traditional styling with endless permutations to choose from, a door of solid square lines -quite simply a door of quality that looks good anywhere.
At Timber Composite door we believe Mr F made an excellent choice – the Solidor Ludlow Timber Composite Door has a proven track record of popularity which is why it continues to be the best selling door in our range – this is a door that we find almost impossible to categorise in any way other than to say that if you walk down any street in the UK you will invariably see a lovely Ludlow (or a door of the same design by others) that's how popular this style of door is. This is not a door where we can advise choice of colour, there is no most popular, it looks good in anything from a rich red to a rosewood, from a Schwarzbraun black to the Duck Egg blue chosen by Mr F or anything in between whether it is combined with a matching or a contrasting frame colour this is a door that it is not possible to mismatch, it will always look good.
The two glazed panels can help personalise the door to your individual taste, with options ranging from the traditional diamond to the more contemporary abstract. This range is so extensive that there is also the option of a solid door, which looks great in Irish Oak. Just like the doors in this range it is not possible to categorise the accessories best suited to this door our customers mix and match the traditional and the modern and they all look good on this door.
If you feel your door is a little tired but you like the style and you want to retain it – take a look at the Timber Composite Door range Solidor Composite doors – our range is so extensive we are sure to have a close match after that we are only a short call or internet click away from providing you with a clean fresh look to your home just like Mr F of Lingfield.