Why did we wait so long?
With lots of the above, ice and snow and bitterly cold winds already being predicted for the forthcoming winter why would you want to wait before installing a new composite front door with all of the efficiency benefits it would bring.
Every spring when we review our "frequently asked questions "postbag there is a recurring theme-
"Why did we wait so long "
"We wish we had purchased a Solidor earlier"
"We have benefitted so much from the purchase of our Solidor door – why did we not do it sooner"
"Our energy bills our down why did we wait"
And many more of the same basic theme.
A new Solidor is good all year around but it is the winter months when you really notice the difference solid, secure and weathertight with factory applied draughtproofing to ensure draughts are all but eliminated and the solid timber core provides the very best of thermal efficiency. When statistics suggest that up to 11% of all heat loss from your home can be through a badly draughtproofed /fitted door is it any wonder that our customers wish they had purchased their new Solidor earlier.
At Timber Composite Door we know all about the benefits of the Solidor door, just as you would expect from a company that has been successfully marketing and installing them throughout the UK for over ten years. We know how good they are at withstanding the onslaught of even the worst winter because our customers keep telling us how pleased they are with their performance.
The Solidor, performs brilliantly and looks sensational – a visit to the Timber Composite Door website and you to will be sold upon the quality of this door – whether you are looking for traditional or contemporary, cottage or stable or patio or French there is a Solidor that can be adapted to suit them all. Use our "door designer" to check out all the styles and colours and accessories you will be amazed at the choice – we lost track of all the options years ago. They all however have one thing in common, they look great and no matter which one you choose it will be sure to enhance the appearance of your property and may even increase the value.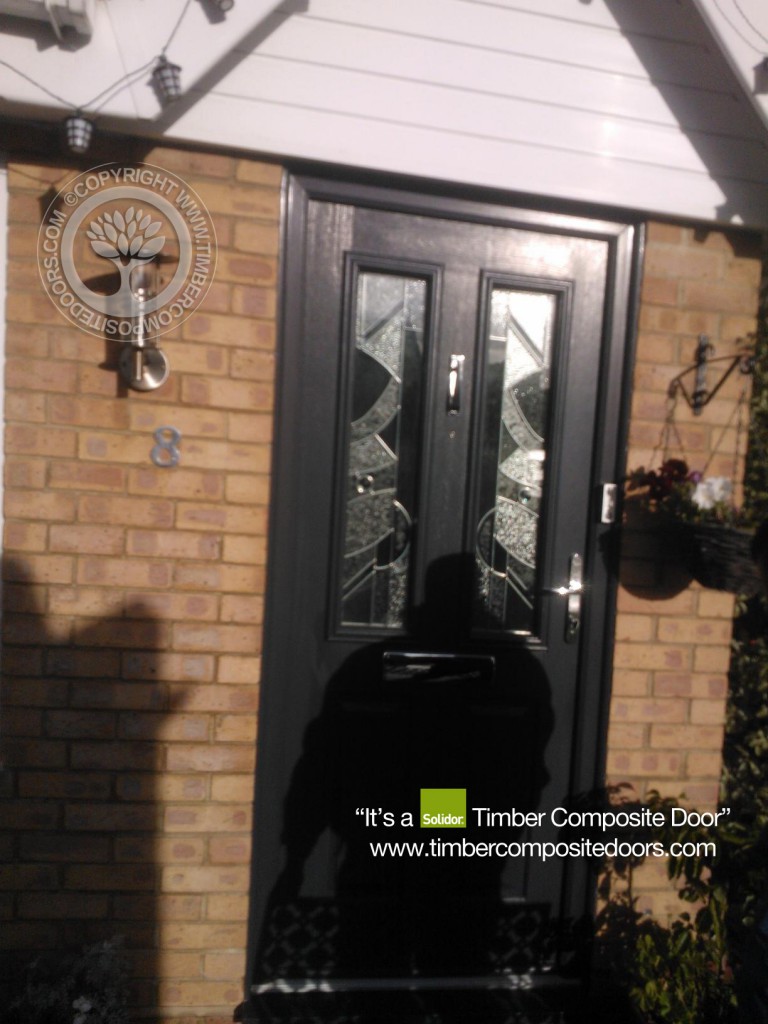 How good would a Black "Ludlow" such as this look on your home.
We would not wish any prospective visitors to our web site to think that it is solely full of pretty pictures of doors, there are a lot, but there is so much more, for instance take a look at the drop down menu for "Useful information" where you will find information on everything from our "Installation Services" to our "0% Finance Packages" to "Door security" and Customer Protection" with lots more technical information such as that below advising the exploded construction drawing of the door.
Back to that beautiful winter scene at the top of this blog and maybe you should be asking yourself do you really want to let another winter go by without changing your front door – do you really want to become one of those in our spring FAQ postbag saying "why did we wait so long"
Check out the website – design your door place your order and leave the rest to us a front door is always a good decision – a new Solidor front door is a better one and one which you will not regret.