When is enough too much
The musical Cabaret contains what personally I think is a very irritating and pointless song called "Money makes the world go around" as performed in this clip by Liza Minelli – and whether we are rich or poor is in the main decided by how much of it we possess. Note we are referring to money and not any of the other many merits or demerits that make us a better or a worse person – we know that there are many.
The latest insight into the depths that people will go to hide their wealth was broken with the leaked 11.46 million files from the offices of the Panamanian Law Firm Mossack Fonseca – so how rich is too rich.
In life we all strive to better our standard of living for ourselves and our families and no-one would criticise us for this – but for those who have vast amounts of wealth only to hide it away as we have seen in the Panamanian scandal the criticism just keeps on coming. Wealth is not something new to our generation it has been around forever in fact we tend to forget that some of the wealthiest of individuals throughout the ages have also been some of the greatest philanthropists who have left the nation a legacy of "good works" that have far outlasted their own lives.
A Point of View broadcast on Fridays on radio 4 gave an interesting insight in their programme "Can you tell if you have got too much money"   the main text of the article is repeated in the link and if nothing else makes fascinating reading. One of the fundamental questions the article raises is –
If we were elevated to the levels of the superrich would we act any differently to them in protecting our wealth – interesting question – if you have ten times of everything you need and you have invested in property, fine art, cars, racehorses, wines and all of the other things that such individuals do – how do you decide when enough is too much. We all like to think that we would give charitable donations everywhere that needed them – but would we – let's assume we have donated everywhere and we still had money to burn – what then.
Whilst we are very quick in the media to criticise and let's be honest from what the media tell us (because the man in the street will never have access to these leaked papers) there are an awful lot of individuals /companies/corporations and even countries who have been avoiding their financial responsibilities and deserve to be singled out. There will also be a lot of genuine wealthy people who have done the correct thing – paid their taxes -supported charities etc. and still have wealth to invest.
Here at GFD HQ we have no idea where the line should be drawn as to "when is enough too much" suffice to say it is a position that none of us here in the office need worry about. At Timber Composite Doors we deal in the real world of providing our customers with new front doors – they are not the cheapest on the market – but you do not have to be superrich to afford one all you need is a discerning eye to spot quality when you see it.
With twenty-nine styles no make that thirty- one styles (four out and six in) eighteen colours make that twenty (two new ones introduced) to catch up on these changes and lots of other new additions see "New Solidor Timber Composite Doors"
When the quality and the style is as good as –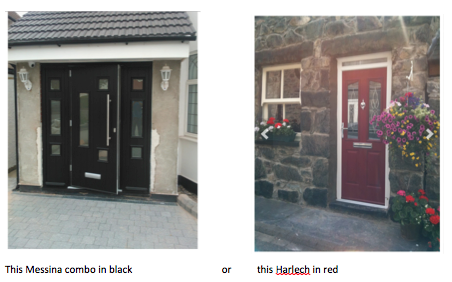 You know that you have a door that would grace even the homes of the superrich.