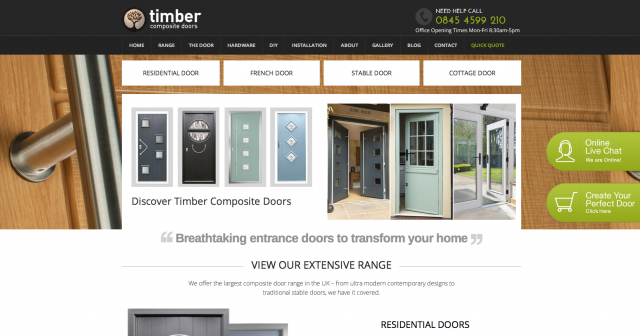 The High Street Retailer will provide a good selection but not necessarily the door you want, modern door ranges are so extensive and the cost of floor space so high that it would be unreasonable for any retailer to stock the full range. However, good stockists of the particular range you are looking for should have sufficient examples to allow the touch and feel of the door to be tested, but these doors will generally not be the most competitively priced and rarely will the top end of the range doors be catered for. Installation services may be provided but they may be of questionable reliability. Similarly although most door manufacturers guarantee their products getting the High Street retailer to pass on or honour them is not always the simplest of tasks.
Manufacturers, when they have direct sales (an ever reducing number) will normally have a showroom displaying examples of all of their doors, all you have to do is navigate the salesman and you can walk away a happy customer. The same cannot be said in situations where a Sales person is directed to your home, everyone has their own story of such encounters. The price from the manufacturer should always be competitive, but always remember they are generally selling you only a single door so there are cheaper options. Installation will generally be by the manufacturers own teams and can be very good indeed but often at a premium price. A reputable manufacturer will always give product guarantees but not necessarily installation guarantees so getting them back if something fails may not always be easy.
Your local builder or joiner, if you know him and you trust him why not, he will probably be reliable and accommodating but you will have to direct him to a door you want and he will have t purchase from the manufacture, where, unless he is an accredited account holder he is unlikely to get the best price. With this style of purchase and installation your product will be guaranteed and we would hope that as the tradesman is known to you he can be relied upon to do the correct thing should things go wrong
The Online Reseller – let's start with simple premise – manufacturers manufacture and resellers sell. An online reseller is a company who uses a web site to display its products whereby they can create a virtual showroom and display every door a manufacturer makes or in some cases the ranges of multiple manufacturers. A good Reseller will already have a trading relationship with the door manufacturer whose goods they sell and therefore because the reseller buys volume the prices they pay will have the benefit of very competitive discounts, add to this the fact that the reseller has limited overhead because they have no showrooms and they are normally the most competitively priced doors available. The Reseller therefore wins on ability to display and price but loses out if the customer needs the touch and feel of the product.
Installation can be a strange one for Resellers as they do not always have the facility to carry out surveys or the knowledge to employ professionals, but there are companies in the Reseller market who provide very good installation of the highest quality using tried and tested companies rather than individuals.
Where does a Reseller sit with guarantees? If the door manufacturer provides them these will or should always be passed onto the customer and if things go wrong providing you have chosen a Reseller with a good after sales service your guarantees will be honoured in full.
How do I choose an online Reseller – check out what they offer it should all be stated on their web site. The ideal Reseller will provide all of the following-
A "Virtual showroom" of all of the doors of your manufacturer of choice displaying colours, sizes glazing options and accessories
A facility to design and price your selected door on screen and the price should be very competitive
A facility on the web site to match a photograph of your home with that of your chosen door so you can visualise it on your home
A full administration back up – automated if possible so the customer is always aware of where they are in the purchase procedure.
Secure financial payment facilities
Guarantees underwritten by an independent body such as the DGCOS
A Reseller who provides a fully guaranteed survey and installation service, where all installations are carried out by a single company with a national network of depots, a company who are themselves experts in this field being fully accredited Installation and Repair engineers to the Insurance industry
Testimonials that are written by satisfied customers (or unsatisfied as the case may be) and are vetted by an independent organisation such as TRUST PILOT
So where can you find a company who can fulfil all of these requirements, if you are reading this in its original format on the web site of Timber Composite Doors you have already found the company that can do it all. Timber Composite Doors is a group company of one of the most successful online Door Resellers around. As part of the GFD Group of companies all of the above and much, much, more is available to all of our customers. Check out our other web sites, Global Door, Fusion Door, The Trade Village and Composite Door Prices they are all targeted at slightly different markets but they all benefit from the excellent services that the GFD Group can provide.
If you are reading this on some other web outlet – where have you been, we are waiting for your call to help you purchase the new door you deserve.