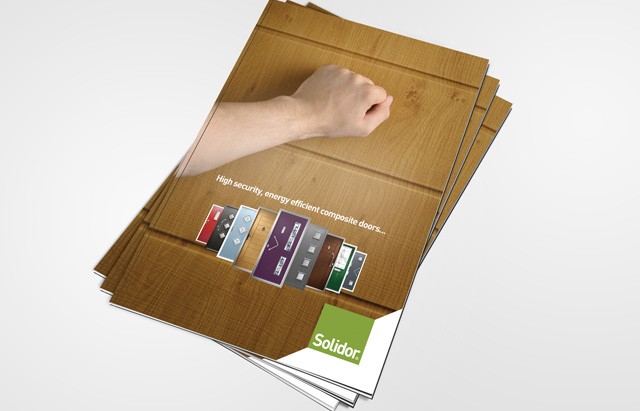 At GFD Group we think our web sites are pretty informative, with high quality photographs and Timber Composite Doors – Solidor Brochure[/caption]carefully written content we try to give our customers as much information as is possible in the most easily navigable of formats. However, we have been in this industry long enough to know that many of our customers like to see and touch a product which unfortunately as we provide a "Virtual" service, and we do not operate from showrooms, this is a service we care unable to provide. We can however provide the next best thing in the form of something our customers can touch and feel – a brochure of our Solidor range of products and what a brochure this is, it that is so good it is fast becoming a collector's item, with sixty pages packed full of specification information, informative text and beautifully photographed gloriously life like doors you cannot fail to be impressed.
One of the main reasons we teamed with Solidor to market their doors through our Timber Composite Doors web site is that apart from being very impressed with their doors we were even more impressed with their ECO credentials. It's all there in the brochure, in their words, not ours, they have long prided themselves on their ECO credentials as they are one of the few suppliers to manufacture composite doors with a solid and fully sustainable hardwood core, as they themselves state in their advertising anyone can feel the difference when they take the "Knock Knock" test, which gives "the feel of a Solidor."
This is a brochure that is crammed full of everything you ever needed to know about the door you are about to purchase no mean task when there are 10 standard door designs, along with French Door, Stable Door and side frame options and of course the ground breaking "Italia Range" which alone covers twenty nine door styles. Every door style is carefully matched to a range of glazing options and is illustrated with selected accessories, there is no lists of options in this brochure, every item you can purchase the glazing options the, the handles, the letter plates, the door knockers and even the Avantis lock, which provides for the largest deadbolt in the UK are all there photographically displayed with total clarity.
The range of colours available for the majority of door styles is truly extensive, seventeen, many of which are industry firsts such as Mocha, Rich Aubergine, Chartwell Green, Duck Egg Blue and French Grey. These colours are not displayed as "swatches" which are totally different to your door when it arrives, they are vibrant and life like and every one of the standard door types is displayed in a minimum of four of the colours in which it is available, in fact if all the images displaying colours of doors in this brochure are counted there are over 100 we know we have counted them.
If you are still having difficulty choosing your perfect new front door and would like the reassurance of a brochure give us a call and we will forward a copy, check it out for yourself, make the decision and when you decide to purchase simply give us a call and we will take it from there.