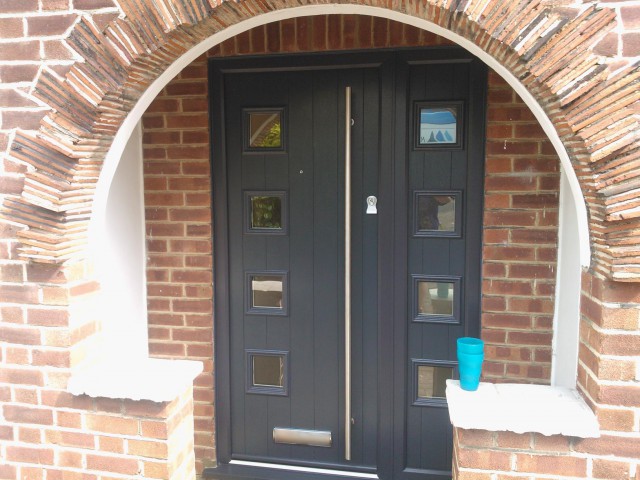 The first time our distant relatives rolled a rock across the entry to a cave to keep out the elements and make a safe secure place to sleep, could they ever have wondered what that first simple door would eventually become?
As the years have rolled by and man has evolved the cave has gone to be replaced by any one of a multitude of styles of "des res" properties where numerous materials have been used as a substitute for that rock, timber, metal, UPVC to name but three. Somewhere about ten years ago a new kid arrived on the block in the form of a Composite Door, a door with better thermal credentials, superbly durable and virtually maintenance free, a new era had begun. But good as composite doors are how "eco friendly" are they – with a compressed polyurethane foam core and GRP cladding they do not have the best of carbon footprints so the answer is "not very".
That was a starting point for one company, the objective, to create a Composite Door that had all the thermal benefits, the durability and the maintenance free elements, but to make it out of materials that were "eco friendly".
The company and the product have the same name – Solidor, the material they chose was one of the most sustainable of all products – timber.
• Gone is the compressed polyurethane foam core replaced by a layered and bonded 48mm thick solid five chamber Hardwood core using only timber that comes from forests which are managed to meet the social, economic and ecological needs of present and future generations
• Gone is GRP cladding replaced by through coloured thermo plastic skins
• Add to this a recycling program that provides all the reinforcement for the door in the construction process and takes care of all of the production excess materials packaging, polystyrene, cardboard PVC, timber, aluminium and steel all of which are disposed of in an environmentally sympathetic manner.
The result, an extensive range of doors that are not only beautiful in appearance but have been tested to the industry standards and are more than a match for the more usual foam filled composite door, with thermal efficiency that is the equal and strength and durability that exceed its competition, PAS 23/24, Secured by Design – these doors meet them all.
The door construction may be different but nothing is lost in the quality and available range of these doors, ten basic styles, twenty nine of the superb Italia Range styles, with a choice of seventeen colours (which you can have both sides if you wish) including new colours such as Anthracite Grey and Rich Aubergine not forgetting the extensive range of glazing and accessories options all of which have been handpicked to blend seamlessly with your choice of door.
What makes Solidor different it can be summed up in one word and that word is "Quality" what else would you expect from the most Eco friendly composite door available in the UK.