Consider this –
A new front door brightens the appearance of your property giving it a fresh clean look and it also adds value to your home –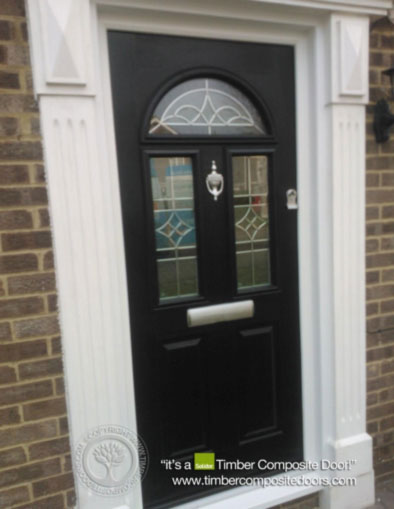 So what factors should you take into consideration when looking for a new front door – the location of your property rural or urban will have an impact, the existing architecture, city apartment or suburban avenue they all have a bearing upon your choice because they are the factors that determine colour and style.
Consider the Style –
The easy guideline is to follow the information given by your door manufacture/ retailer – if your favoured door is described as part of a contemporary range and you have a period cottage – it may not be the best of choices. The Manufacturer/retailers information is normally gathered from the experience of previous sales and the doors in individual ranges matched to the most consistent locations. The architecture and construction materials of your property can also influence your decision a door and building in perfect harmony looks great, but get it wrong and your property can look uneven and mismatched.
Size and age do matter your new front door should be proportional to both the size and age of your property.
When trying to describe doors much is made of the period Victorian, Edwardian, Georgian etc but the rules governing such descriptions have become somewhat blurred as one manufacture may categorise a door as Victorian whilst another categorises the same door as Edwardian – In order to avoid such confusion, we here at Timber Composite Doors simply differentiate between "Traditional"(which includes cottage) and "Contemporary" and let you the customer decide and of course the majority of our door styles are adaptable to "Stable" or "French"doors.
Period properties with high ceilings Bay windows square lines and slate pitched roofs are generally best suitd to Traditional styles – this "Conway on the left provides an excellent example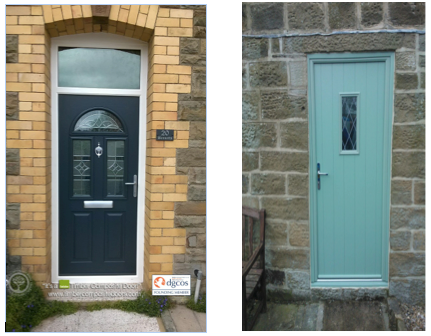 It its more the rural cottage styles the Flint on the left could be your ideal solution.
As so many modern houses are now built with doors which do not align with any particular period or style anyone of the full range of thirty styles in the Timber Composite Doors catalogue will fit perfectly in such locations.
Consider the Colour –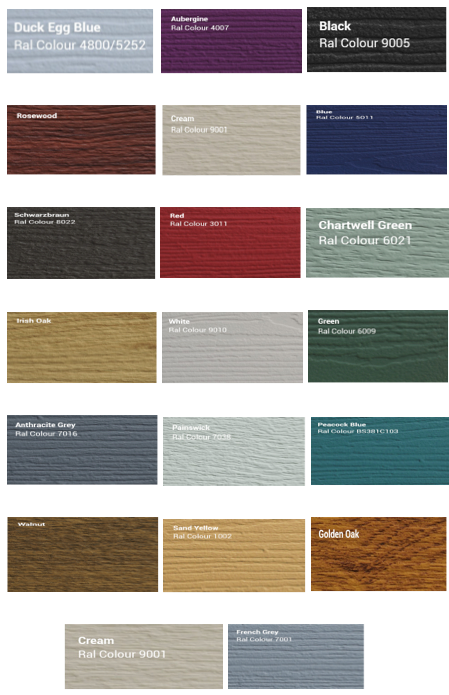 We know how important it is that our customers have plenty of choice and with this range of twenty colours all of which are available in a wood grain finish we are pretty certain that there is something for every location.
The chosen colour should be sympathetic to the background construction material to complement your existing brickwork, render or stonework or maybe match your own personality –
Green for eco-friendly and at one with the natural world.
Red for Passion
Blue for tranquillity
White for cleanliness and purity
Black for strength
Etc.
With all Timber Composite Doors you can colour match your frame to that of your door.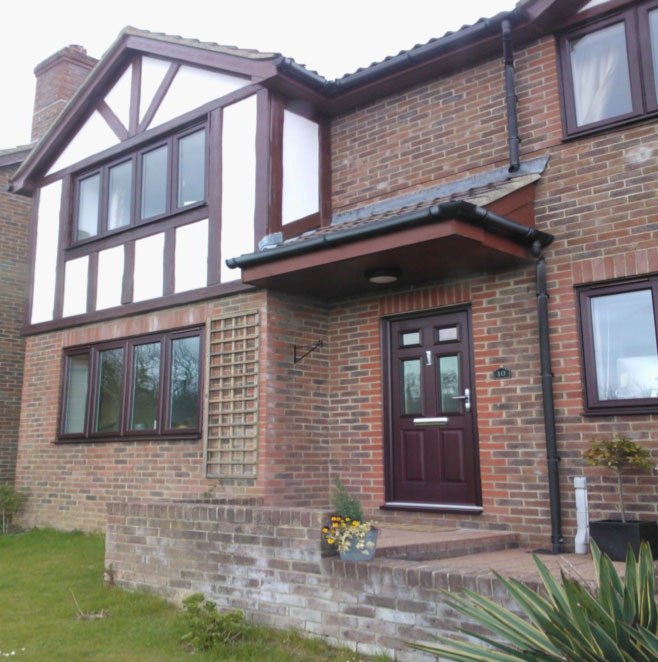 This Tenby in Rosewood is an excellent example of a door that is sympathetic to its surroundings.
Clean and Tidy Lines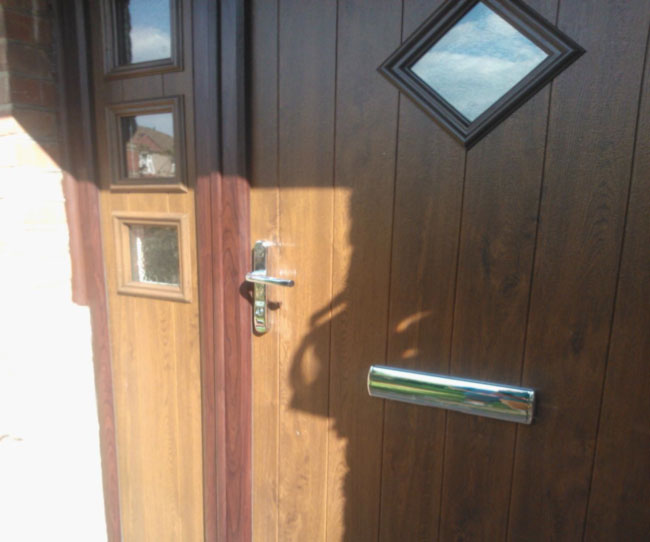 Appearances rarely lie and a door that is clean free from chips, cracks, scratches, marks and scuffs with polished hardware clean thresholds, streak free glass and well mastic pointed door frames is normally a door that is well maintained and one that will retain its vibrancy and looks for years to come.
One of the many benefits of a new composite door is that when it comes to maintenance you already have a head start the most that your new door will need is an occasional wipe with a damp cloth to keep surfaces hardware and glass clean and your door should enjoy a lie span of circa thirty tears.
Coordinated accessories
The door is chosen the colour is picked but often it is the finishing touches that turn your door from a functional door into a "head turning door", the colour, contrast and quality of your glazing and hardware accessories handle, knocker, letter-plate and numerals should be in harmony with your front door and at Timber Composite Doors our vast range of accessories provides an option for every door.
Hardware in Chrome, black, white, gold and brushed aluminium, from traditional cast iron style knockers handles and letter plates (perfect for the rural property) to contemporary curved and triangular bar handles and stylish door knockers (ideal for the loft apartment) there is something for all locations.
Similarly, with glass options from obscure through leaded and colours all perfectly coordinated to the colours of our doors.
Do not be afraid to mix and match from our various ranges this as this can frequently look stunning and if you operate in the "hi-tech" world we can supply you with suited digital locks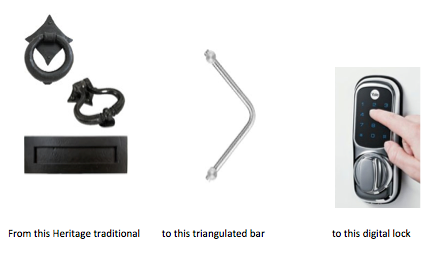 We have it all –
When deciding on a hardware colour, consider not just your door, but also your nearby brickwork, stonework, render and window frames.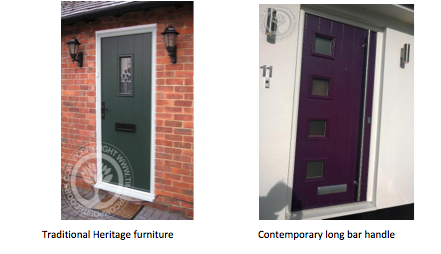 Check your focal point –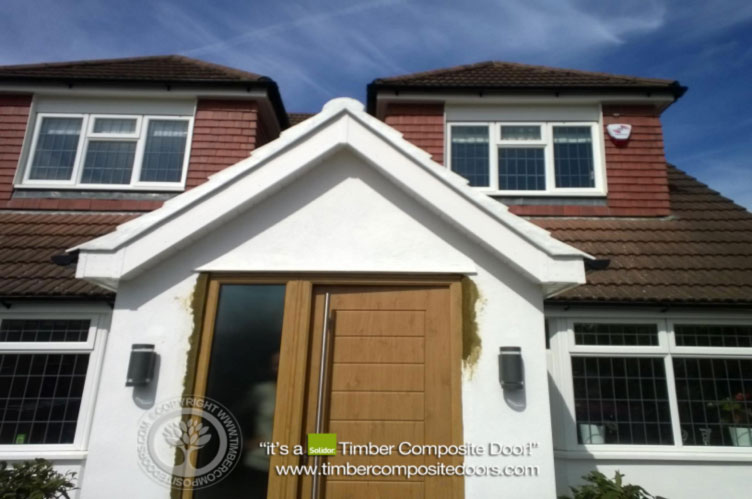 Front doors are a great focal point but sometimes there are better ones in the façade of your home e.g. a large picture window or a double garage door – blending your new door into either compliment or highlight existing features is the real key to making your home look more attractive.
If you are short of prominent features and want to make your new front door the visual centre point – consider
Potted plants and flowers or hanging baskets which when placed either side of your door –make your home instantly more welcoming.
The correct use of ornate external lights can enhance the appearance of your entrance even when switched off – but come darkness the light they cast can create intriguing and beautiful shadows that can be used to highlight your door.
When all things are considered we are pretty sure that if you choose a new composite door from Timber Composite Doors you will be picking the option that will give you a beautiful virtually maintenance free door that you will be able to enjoy for years to come.
Be inspired take a look at our gallery pages and then design the door that you always promised yourself.