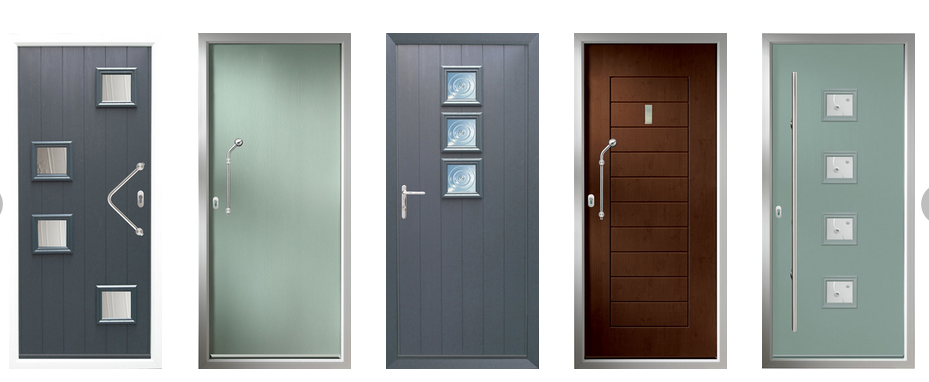 There are now numerous suppliers of Composite Doors they are available everywhere from your local DIY store to a multitude of "Online" suppliers who offer very differing services, so how do you choose. If you are a little bit "green" and aware of the world around you the majority of composite doors which come with a compressed polyurethane foam core and GRP cladding they do not have the best of carbon footprints particularly as they are manufactured in the Far East and burn up air miles simply to get here.
There is however an  "eco friendly" alternative where –
The compressed polyurethane foam core is replaced by a layered and bonded 48mm thick solid five chamber Hardwood core using only timber that comes from forests which are managed to meet the social, economic and ecological needs of present and future generations
The GRP cladding is replaced by through coloured thermo plastic skins
The company manufacturing this door operates a recycling program that ensures that all the production excess materials packaging, polystyrene, cardboard PVC, timber, aluminium and steel all of which are disposed of in an environmentally sympathetic manner.
And the biggest carbon foot print saving of all – this is a door that is manufactured right here in the UK
The company and the product have the same name – Solidor, the material they chose for this "eco friendly" door was one of the most sustainable of all products – timber – and as these doors are manufactured to a thickness of 48mm thermal efficiency and strength and durability are guaranteed and when it comes to achieving the industry standards of, PAS 23/24, and Secured by Design – these doors meet them all.
The result, an extensive range of doors that are not only beautiful in appearance but exceptional in performance and quality with , ten basic styles, twenty nine of the superb Italia Range styles, a choice of seventeen colours (which you can have both sides if you wish) and an extensive range of glazing and accessories options all of which have been handpicked to compliment your choice of door.
Solidor composite doors what makes them so different –
Quality
Eco friendly
Made in The UK
–        Available with the very best in installation services from Timber Composite Doors