they are simply outstanding whichever of our two ranges you choose – the ones named after UK cities or those named after Italian cities.
Red is a colour that is too bold for many and they shy away from making the passionate statement that the colour red conveys be it in clothes, decor, cars or even a front doors. We at Timber Composite Door are neither shy nor retiring we embrace all of our door colours and styles but ask us which we love the most  and we would say any style as long as it is red.

We do not want you to take our word or guide you in any way in your choice, the decision as the saying goes "is yours" but first consider all the good things that come in red
Have a look at our range of door styles, we think they would all look good enough to be chosen as the new red front door for your home, but we admit to being a little biased as we are passionate about both of the Solidor Door ranges. If you have any doubts as to which would suit your home best use the "Range" Drop down menu from our web site header – next pick Residential Doors –
To guarantee you will see your chosen door in RED use the WEB SITE DESIGN A DOOR ON LINE FACILITY there's an icon on virtually every page of the web site – when you get to door options select the door of your choice then external colour  RED and the colour of your chosen door will immediately change to RED please let us know if it does not because it will only be for one of two reasons – the door chosen is not available in RED or the website is broken.
And here are two of our favourites – it really is that easy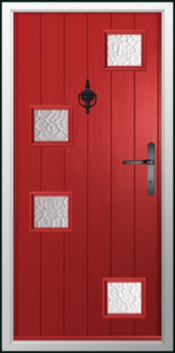 The Modena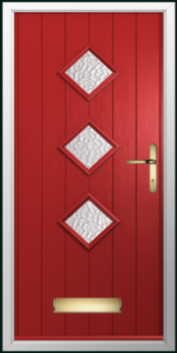 The Flint 3
These doors will look good even before you add the hardware but when you add a gold letter plate and handle your red door as in the Flint above it will really look spectacular. As an alternative try the black hardware as shown on the Modena door it may surprise you just how much this will change the appearance, giving it a subtlety that you possibly did not appreciate.
If your passion matches ours here at Timber Composite Door go ahead be bold and that little bit daring show your passion, make that statement and add that red composite door to your home, we do not think that it will be a decision over which you will ever regret..
Follow Timber Composite Doors's board Solidor – Red Composite Doors on Pinterest.