Our Man Flint
It is one of the most versatile doors in the Timber Composite Doors stable and Mr A of Essex must have been suitably impressed because he is one of our latest clients to install this superb door.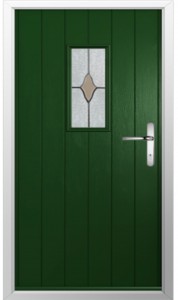 In the TCD offices we know this door as "The Fabulous Flint", because with its vertical match boarded appearance and variations in glazing options and styles this is a door that will look good anywhere from apartments to country cottages. The standard Flint Solid Door is a one that looks as if it belongs in a country setting on cottages, farmhouses, front doors or backdoors or even doors with side panels When this door is redesigned to accommodate one of the contemporary glazing styles of single or triple diamond shaped glass features or even the variable length centre panel, the door takes on a completely new identity which could be equally suited to suburban living as is the case with Mr A of Essex who chose our Flint 2 in green with chrome fitments and CTB18. 1 glass which looks extremely stylish as shown below and even better in the installed photographs of his home.
 This is a door which gives you so many options where you can choose whether you wish to personalise it to your own style here are two examples that may appeal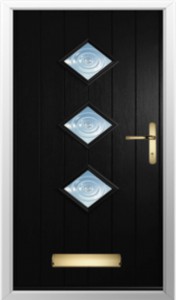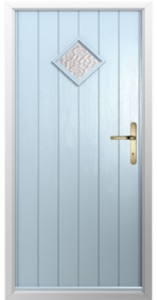 They are only three of the multitude of options that you can opt for with the super versatile Flint
The stable door is increasing in popularity and it is not hard to understand why it would not, simple and uncompromising in design and yet extremely functional in purpose it is the perfect style of door to adapt to this option and yes the Flint adapts perfectly to stable door styling – we did say it was versatile!