Not quite according to plan
It all looked very promising right up until that very last over and then Oh Dear! Those super hitters from the West Indies did us again – four sixes off four balls was pretty dramatic finale to a hard fought match but yet again our gallant boys romped in a brave also ran.
Here's to the next time when hopefully a few more of the guys from the WI's will have hung up their bats and our young bucks will be a little older and a lot more experienced.
Here at GFD Group HQ we take an active interest in most sports and the T20 World Cup has provided us with some riveting action – the one thing that is alien to us here at GFD HQ is the concept of coming second best – it's just not built into our psychological make up – at all of the GFD Group of companies when we talk composite doors we expect all of pour group companies Timber Composite Doors, Global Door, Fusion Door, Composite Door Prices to be winners – a fact which equally applies to locks and hardware accessories as we expect the same performance from our Eurosecure web outlet.
At GFD Group our whole philosophy is built around continuous improvement to provide the very best product and service for our customers which is why we constantly review our web sites in order to ensure that they are easy to navigate and as "user friendly" and informative as is possible.
When the products that we are promoting are as good as the Solidor range of standard and Italia Collection Doors we already have head start – stylish and elegant they make the task of building a web site around them – they look good and photograph well simply because they are good. With a timber core for added strength and durability providing excellent thermal and acoustic insulation properties these doors are certified and approved by all the standard industry bodies to find out more investigate our Timber Composite Doors web site for yourself – you will find a selection of twenty nine superb quality doors available in eighteen colours with all the glazing and hardware accessories you require to create your dream door. That creating of your dream door is no problem when you use our door designer (click the quick quote drop down menu) but first maybe you should visit our Gallery Page to see the options others have chosen – real photographs of real installations.
Designing your door is an easy step by step operation – here are a couple that took us all of a couple of minutes to design.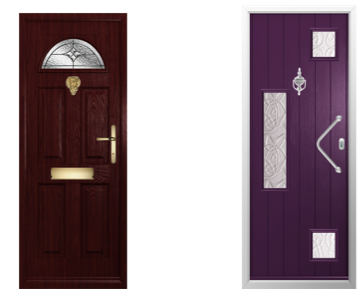 A traditional Conway in rosewood with
A contemporary Messina in Rich Aubergine matching frame
We also provide both finance and installation as part of the service and if you want to know what some of the many individuals for whom we have already installed doors think of our service take a look at our TRUST PILOT reviews.
At GFD HQ we only want to be winners suppling all of our customers with the best possible service – runners up is not an option.