Fashion constantly evolves and so do our doors
Fashion and trends in all manner of products constantly change and doors are no exception to the rule, styles change, colours increase and the more choice our customers have the more varied their selections. We keep a watchful eye on trends and we recognised that aluminium in all things doors and windows is currently enjoying a resurgence in popularity – they look great but they are expensive – so what about an aluminium look-a-like at a much-reduced price but with all the benefits of a composite door as an alternative
Back in February in a blog entitled "Avalon, Infinity, Olympus, Serenity and Orion -your choice" we introduced our customers to the latest addition to our extensive range – the very same aluminium look-a-like composite door now available as a composite door called The Premium Contemporary Collection.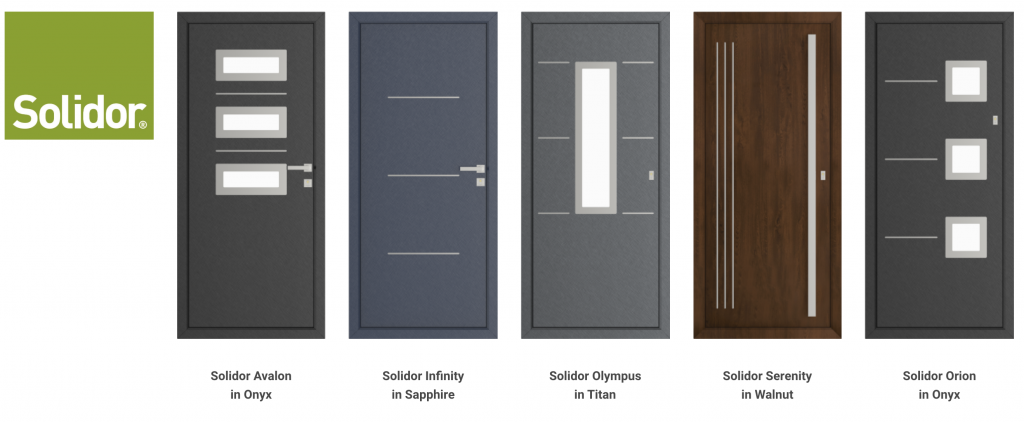 It's new, it's exclusive and it's an ultra-contemporary doors which combines the quality of a Solidor with the appearance of an Aluminium door.
So, what's new about the Premium Contemporary range –
Five new unique door styles each designed with the same ABS plastic skin as you would find on our Traditional and Italia collections, but this time we have we've foiled them to give a smooth, metallic finish, leaving the appearance of a real aluminium plus we have made them available in four new colours Onyx, Sapphire, Titan and Walnut.
Nothing is lost in the manufacture of these new doors the same 48mm timber core for solidity and security and the great thermal qualities it provides.
The appearance of these doors is where the difference lies – aesthetically pleasing to the eye and enhanced by a number of small but very significant changes – a stunning new range of hardware has been designed for The Contemporary Collection, with long, elongated bar and symmetrical lever handles that complement the look and feel of the door.
The stainless-steel features and glazing surrounds within each new style are fixed flush to the door and with triple glazed, laminated, and Low-e glazing options in satin glazed glazing options which guarantee security and thermally efficiency.
There is no substitute for style and with the Premium Contemporary Collection you really can have it all a new choice for your external door that adds unrivalled security to great style in amazing colours guaranteed enhance the appearance of any property.
Why not check out just how good these doors are by designing your own Premium Contemporary door using our door designer