A trick of the light – maybe
At first glance this photograph appears to be a typical street scene which could take place in any number of cities in the world – two strangers passing in the street – but take another look maybe that dog sees something we do not know. Is this where the phrase "intimate strangers" originated – take another look – this time at the shadows of the two strangers on the wall – they do not look quite as much like strangers anymore – the dog clearly sees what we do not.
They say the camera never lies maybe in this case it is not so much lying as distorting the truth or even creating a premonition of a possible future romance.
We will never know.
Here at GFD HQ we know that quality images sell product which is why when you visit the Timber Composite Doors Gallery Page you will find only genuine photographs of doors which we have actually installed – no "tricks of the light" or any fancy enhancements just our superb Solidor range of doors displayed in the best possible way – on the homes of our happy customers.
Our gallery photographs are good but even they do not do justice to the real thing – a choice of twenty nine door styles – eighteen colours – a multitude of choice when it comes to glazing and accessories we do not need to use any photographic trickery to enhance our doors their quality speaks for them – that is what our customers tell us – take a look at our latest reviews on TRUST PILOT genuine reviews from genuine customers over whom Timber Composite Door have no influence. We are so confident in the quality of our reviews that back in the summer of 2015 we wrote a blog called "Bursting bubbles of unscrupulous traders" which gave our customers guidance as to how to access all of our reviews the outstanding, the very good, the good and even the very very rare not quite so good rather than offering just a selection of the highlights.
Here are two photographs from our gallery page that we have picked out for the specific reason that they do incorporate a "trick of the light"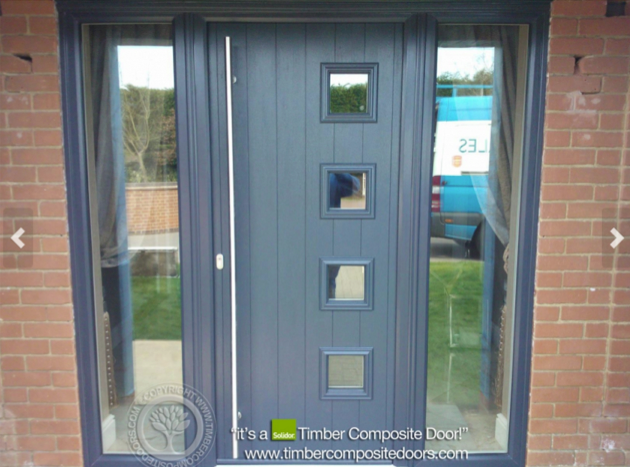 A superb Milano ain Anthracite Grey and in the reflection the van of our installation team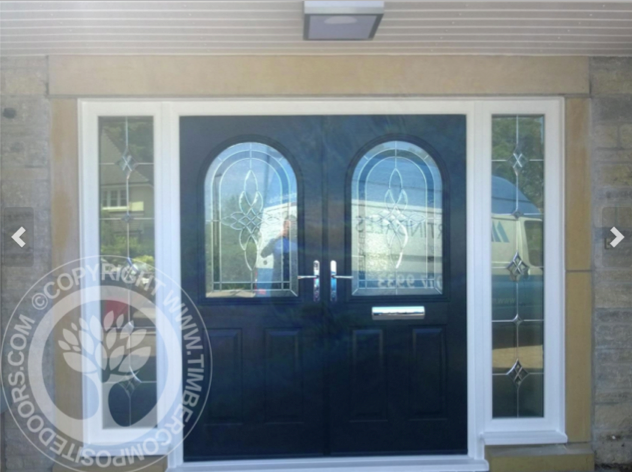 -and a pair of Stafford French Doors in blue again with the reflection of our installation teams van.
Timber Composite Door install throughout the UK so we are always local to you wherever you may live and more importantly we guarantee all of our installations for five years.
We are justifiably proud of our installation service – it works – every one of our installations is carried out by a Company called Martindales with whom we have had a long standing arrangement – they are experts in their field have a network of UK outlets are comprehensibly qualified and most importantly are one of the very few companies in the UK recommended and used by all of the major insurance companies,
If you look very carefully you may just be able to make out their names in the reflections of the two vans above – maybe we do use the very occasional "trick of the light" to enhance our photographs.
If you would like to know more about our Premium Installation service check out this link to our web page