What we think our customers should expect
A quality product
A quality installation
A friendly and efficient service experience.
Confirmation documentation every step of the way-
And when we are talking of doors that look as good as this one shimmering in the sunshine (one of our actual installations) we believe that it is our duty as an "online" retailer to provide all of our customers with at least the noted standard of service.
In the case of a new front door is your "calling card" to all visitors the first part of your home they see and we at the GFD Group take great pride in trying to assist all of our customers displaying their homes in the very best light.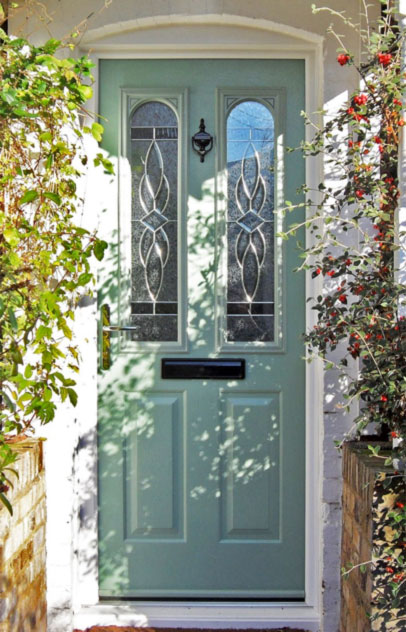 As we do not operate a show room our customers can not enjoy the "touch and feel" of a new door / window /accessory until it is installed – to assist our customers at every level in making their decision our web sites are crammed full of informative images and specification guidance – our installation quality is spelled out in detail – our staff are always just at the end of a telephone for guidance for niggly problems. We have made our web site as automated and responsive as possible so our customers are never in any doubt as to the quality of product and service they can expect.
As soon as you design your door / window or accessory and either request or a save your quote on any of our web sites Timber Composite Doors, Global Door, Fusion Door, Composite Door Prices and for windows Global Sash Windows or if it's just accessories your after Eurosecure you will either be provided with an itemised summary of your prospective purchases or your intended purchase
We request that you check this summary and confirm your acceptance before we proceed – we know our customers do not want mistakes and neither do we at the GFD Group – mistakes cost everyone money and more importantly trust – at GFD Group we consider our customers TRUST of prime importance which is why we aim to be as transparent as possible in all of our transactions.
The reason we are dwelling on this point – as part of the GFD Group service we request our customers provide feedback as to their GFD experience either as Trust Pilot reviews or as actual direct comments to our Sales Team – if we do not secure a purchase we like to know where we went wrong – price – service etc. and many of our customers are willing to share their experiences of the competition with us.
One of the recurring complaints which we find exceedingly concerning is the number of times our customers tell us that when they asked a prospective supplier /installer for a quote they were furnished with a piece of letter headed paper with a price, a salespersons name a telephone number and a description of their intended purchase that bore little resemblance to their intended purchase. Where (in the very few examples) where they actually told us they accepted such quotes they invariably told us that they had no guarantees and no comebacks when things went wrong all in all a bad experience.
At GFD Group we have to be different and extra reactive in the manner in which we trade but in all honesty we thought that this practice had all but died out back in the 70's (that's the 1970's) along with the Salesman who sat in your front room and would not leave until he had attempted to brow beat you into a sale that you were too exhausted to refuse.
At GFD there are some of us who remember those dark days of the industry which is exactly why when we set out to create an online sales set of web sites we had a clear vision that we would never attempt to "con" or "defraud" our customers – quality products, information and service were the keystones we originally and continue to build upon because we want our customers to both trust us and refer us to their friends.