These are the best doors in the universe –
"So said person familiar with the matter "–
It's a Genoa door with side screens in Irish Oak and although it is yet another quite stunning example of Timber Composite Doors range of superb composite front doors it is probably not the finest example of a door in the Universe we simply use this door to illustrate the absurdity of the new in vogue reporting term "So said person familiar with the matter" a phrase which now seems to be cropping up everywhere.
Once upon a time if a company statement was issued by a Chairman or Managing Director the reader could believe it had some credence as if they made statements that were blatantly wrong they could find themselves subject to the full force of the law.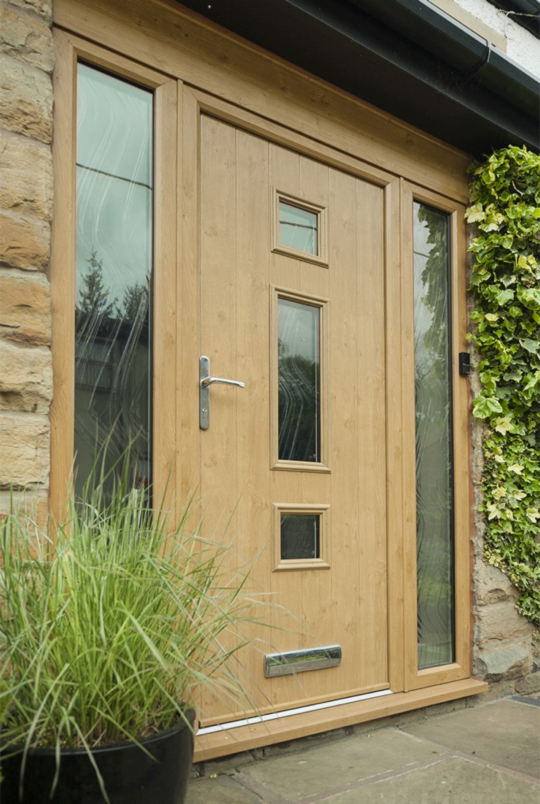 Then came "a company representative" or" a spokesperson" as the voice of authority – except as they were not named it was somewhat harder to find them as accountable if they got it wrong, exaggerated or over or understated whatever their topic of expertise was meant to be.
Over the past twelve months we have slumped to a new low "a person familiar with the matter" has become the phrase of choice for any news related item that is released where the News Channel or the like did not wish to name the source of its information.
So what is "a person familiar with the matter" – in our ludicrous example above it could literally be anyone who knew what a door was and had an opinion that he wanted to share – if we can exercise this right to promote our doors the question has to be asked – can we believe anything where the source of the information wishes to remain anonymous.
Here at GFD HQ we do not really believe that any of our doors are the "best in the universe" but they are really pretty good take our Timber Composite Doors site with dozens of style options in Traditional and Contemporary patterns plus French doors and Stable Doors all available in a choice of nineteen external colours which can be matched with the same nineteen internal colours and just for good measure throw in a multitude of glazing and hardware options and maybe " the person who is familiar with the matter" may in this case be close to the truth in his assessment.
At GFD HQ we actually rarely exaggerate we simply sell quality doors with a quality installation service –a quality customer service which includes a Finance package option and we invite any potential customer to visit our web site Timber Composite Doors or speak to one of our Sales Team (they are real people who will tell you their names and give you the best advice they possibly can in response to your questions) because they are all very very familiar with what we say and what we do.