The French Doors Alternative
Think French doors and we tend to imagine something like the "old UPVC" option a pair of doors "in White" with a lot of glass leading off a lounge or dining room and a view of the garden. However, although they originated in France circa 17th Century and the original concept was one of floor to ceiling opening windows that gave access to the garden , terrace or balcony, but now French Doors have evolved into a pair of doors for all purpose – front door, garden access etc and if you are lucky enough to own a home with a large wide hall you could transform the entry of your home with a Pair of French Doors such as those below.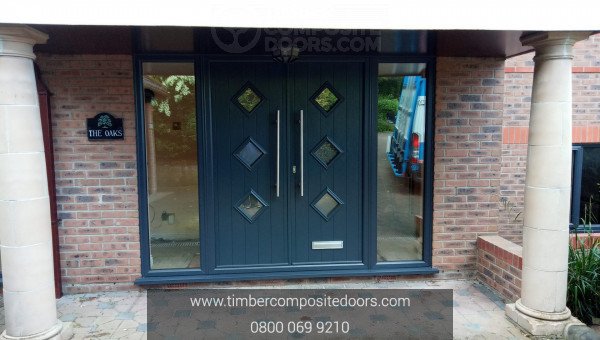 Why French Doors
In our opinion the answer is simple no matter where you use them you get –
A larger accessible opening to your home which itself has a two-fold benefit firstly removal men or deliverers of large pieces of furniture will love you plus if you use them at the rear of your home the access to your garden will be dramatically increased.
A lighter, brighter, airier feel to the interior of your home because all French Doors incorporate a high percentage of glass and when you throw them open in summer, they allow fresh air to circulate throughout your home.
A lot of Style – in 17th century France choices may have been limited but not anymore, any one of the styles of doors we offer (and there are an awful lot of them) can be restyled as French Doors, so, no matter your style of home you have we can provide the French Doors that you feel best your home whether it be a modern or traditional home, there's a French door style to suit.
A lot of colour currently 23 options, so you can make mix and match your new French doors to be compatible with your home décor and you can choose to have a different colour both inside and out!
And we save the best until last all French doors from Timber Composite Doors are Solidor doors manufactured with a 48mm solid timer core, making them highly durable and long lasting.
All of our door designs are available as double or French Doors and here are just a few to get you started
To find out more about our French Doors visit https://www.timbercompositedoors.com/door-designer/ our online door designer tool which allows you to select the different styles, colours and accessories until for your French doors.