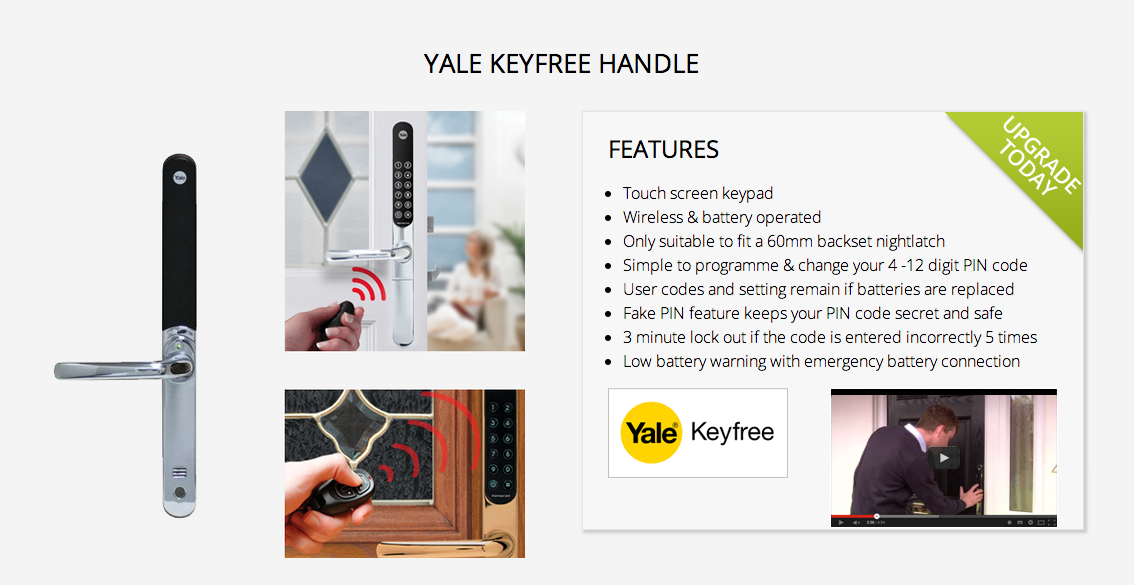 Even door locks evolve – key free locking systems which were not so long ago considered revolutionary are now becoming commonplace and why should the trend not continue, anyone can lose a set of keys or forget a "Pin" number so the risks are no greater than those encountered in many other walks of life.
A step too far away from the conventional for many, not necessarily, this is a product where security meets convenience, no more rummaging around for keys, no more or standing on the doorstep in inclement weather waiting to be let in, this is a lock that combines unrivalled convenience with maximum security
What are they? an innovation in home security, the unique handle lets you unlock your door using the remote control key fob or a pin code, which is entered on the handles keypad, once a "pin" code is set using a 4-12 digit personalised access code, you control who has access as you have the control of the distribution of the "Pin" number and the option to change at your will.
What do they look like? An aesthetically pleasing slim line 12 digit key pad with combined door knob is all that is visible on the exterior and it looks as good if not better than many compatible lock and handle combinations.
What do you get? Designed to work in conjunction with a multi point locking system the following features are also incorporated as standard, illuminated keypad for entry at night, built in 80-decibel alarm to prevent tampering, a door which latches automatically as soon as it is closed, self contained power which still functions during a power cut and tells you when batteries are running low, concealed key cylinder for emergency access, up to 15 metres range on remote control key fob.
Are they secure? The lock has been tested under extreme weather conditions, is wire-free and operated by four AA batteries and it has been approved by both the majority of Insurance Companies and the Police Force who have already certified it as "Secured by design" approved
Key free digital locks are available on all Solidor doors purchased from Timber Composite Doors if you require further information simply give us a call, we are always pleased to assist.