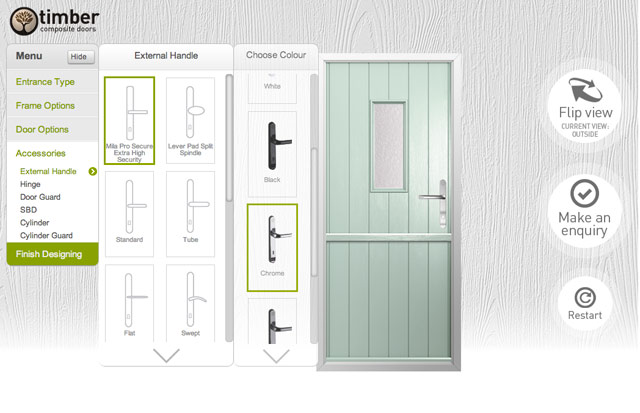 What is a door designer? At Timber Composite Door we cannot speak for others in the industry but our door designer is a sure-fire way of making sure that our customers are receiving as much assistance as we can possibly give them when they are choosing their perfect new front door.
Our Solidor range of doors runs to ten standard styles and twenty nine for the beautiful "Italia range" so our designer has to be pretty comprehensive – and it is.
How do you find it? Simply click the "Quick Quote" icon and then follow the simple steps menu –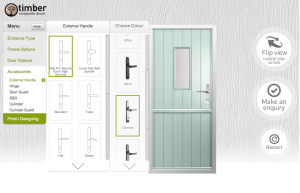 Door type – entrance / stable / French and then the real fun begins
Pick a frame,
Pick a door type,
Pick a colour,
Pick your glazing,
Pick your accessories including selecting the handing of your door
Hit the "Flip View" and look at the door from the other side – what could be easier. Once you have selected the perfect door for you simply hit the "make an enquiry" button and one of our sales team will get back to you within 24 – 48 hours to advise a price.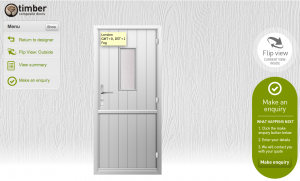 If you have second thoughts and think you may prefer a different door – no problem –  if you have not requested an enquiry simply hit "return to designer " and start all over again or if you have already submitted details for a quote re enter your new details and hit the make an enquiry button.
What about my door size, what if it's none standard? We have that covered, check out our Installation page – as soon as you have placed your order and received "e" mail confirmation normally within two hours we will contact you to arrange a survey by our specialist surveyors , a survey which will normally take place within 2-4 days of order. Our surveyor will take care of all your concerns regarding door sizes advise you of our installation procedures and check out any problems that may be associated with your door installation. Only when we are happy that you the customer are happy with all aspects of your purchase will we proceed with the manufacture of your door.
At Timber Composite Door we believe our door designer is better than a brochure, you do not have to try to imagine what your door will look like, we have already done the hard work, at the click of a mouse you will see exactly what your door will look like, no guessing, just watch it take shape with every step you take. Door designing made easy courtesy of Timber Composite Doors.