Older properties with higher ceilings
Older properties frequently means higher ceilings and higher ceilings can create problems when it comes to installing new front doors because doors of a standard height simply do not fit which is one very good reason if you have high ceilings to consider purchasing your new front door from Timber Composite Doors.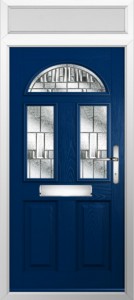 Whether you choose one of our standard or our superb Italia Collection Solidor range they are all available with a complete range of configurations of side screens and over head lights. M/s S of Carmarthenshire recently chose to change her front door – a door which had a sizeable overhead panel but this provided no problems to Timber Composite Door . The original front door on M/s S home was a solid panel door allowing limited access of light other than through the overhead panel so she opted for our two panel plus sunburst panel Conway door in blue with a white frame – instantly she had had more light into her hallway and the exterior of the property looked brighter and cleaner. We have shown this illustration with the "prairie" pattern glass in the door panels but M/s S commissioned her own style which we have to admit goes extremely well with the tiled floor finish
No matter how complex the configuration of door frame / side lights and over head panels may be we are pretty sure that in our range of fourteen options we will have one that will fit with your exact requirements and as part of our service includes a dimension check, prior to manufacture of order, by one of our surveyors you can be assured that our doors and frames no matter how complex will fit every time.
The Conway is one of the most versatile of all of our range of doors it can be a fully panelled door, a four panelled door with a glazed curved head panel, or a two panelled door with two glazed upper panels and a glazed curved head panel, it sounds like we are describing three doors but we are not. The curvaceous Conway we call it so because of the wonderful clean lines of the head panel is a door that comes in many guises that the permutations are endless. A full range of sixteen colours, and glazing options to suit either a single glazed curved head panel or matched upper and curved head panel and if you want to make it more complex the top curved top head panel is also available as a four pane "sunburst" style, a door with so many permutations you could fill a street and no two would be the same this is a door that and yet looks equally at home on a new modern property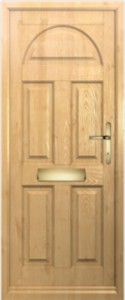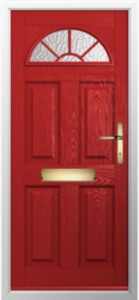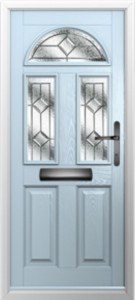 The Conway x3 three doors three different appearances that's what we call versatility