Celebrate Summer with Poppies on the Water – No 7 in the Timber Composite Doors series of doors that money cannot buy
Take one Solidor Ancona from the Italia Collection in Anthracite Grey and add the beautiful motif of Poppies blowing in the breeze against a backdrop of moving water and there we have one of the most emotive of flowers showcased against oe of the most stylish of doors or as we at GFD HQ like to refer to it "Poppies on the water"
One of the most delicate of flowers the Poppy is a member of the Papaveraceae family unfortunately it is a flower we rarely see at its best in pour gardens because whenever it flowers it seems we are subjected to the windiest of days and the featherlike petals simply float away on the breeze. The loss in the garden is more than compensated for by the wonderful displays of the wild varieties that frequently grace our country fields – there are few more stunning sights in nature than a field of poppies as the sun rises or sets.
In the UK the Poppy has come to symbolise "Remembrance" as a consequence of the trench welfare which took place during the first World War in the fields of Flanders, a place where millions of Poppies grew and thousands of troops perished. The humble Poppy had had equally as important a role to play in the world of medicine where one variety produces edible seeds from which the drug Opium is extracted – a drug that has resulted in both despair when used for recreational purposes but delight when used in anyone of its derived narcotic forms morphine etc to relieve pain and suffering from so many in various stages of post operative procedures and the less fortunate suffering from terminal illnesses. A humble flower which has had an immense impact upon the world in which we all live.
To quote "Lonely Planet"   in their description of the city of Ancona -Ancona is "Often brushed aside as being just another of Italy's bolshie, gritty port towns, Ancona is no beauty at first glance from the ferry, it's true. But there's more to Ancona than meets the superficial eye, and to simply bypass it is to miss much."
Although we at Timber Composite Door consider all of the Solidor "Italia" Collection to be doors of exceptional quality and style the Ancona door bears no comparison with "Lonely Planet'" description of the city . This door which is available as either a solid match boarded door or one with a single glazed panel and it can at first glance appear a little ordinary compared with some of the thoroughbreds in the "Italia "stable – but first appearances are not everything – just like the city whose name it bears this door has deeper qualities when it is styled with the correct colours and accessories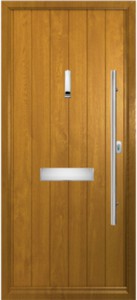 Match boarded Ancona in woodgrain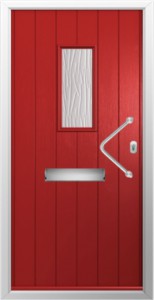 Glazed Ancona in Red
If the Ancona is your door of choice use our "designer" to test out your options seventeen colours a multitude of accessories and glazing styles all of which gives you the option to personalise this door to your exact requirements – but here at GFD HQ we do not think that any of them can possibly compare to Poppies on the Water – No 7 in the Timber Composite Doors series of doors that money cannot buy.