October 21st 2015 – the future starts here
From the fantasy of the Delorean to the reality of the electric Tesla – much has been made of the significance of the coming and going of the date of October 21st as the day upon which the predictions of the "Back to the Future" movie came to be recognised as possible or otherwise so what did the film get right and what did it get wrong the noted BBC article sums it all up pretty well-
Flying cars – not really
Fusion energy drive's – no but Tesla do make a nice electric car –
Hoverboard's some say they have them perfected but as the Guinness world record seems to prove whereas others such as the Lexus Hoverboard have not been so well received
Plus the clothes, the robotics , the entertainment etc they may not all be there on the shop shelves yet but many are pretty close on the subject of robotics what of the self drive car – it would appear Tesla are getting pretty close hence the use of the image above – the recent roll out of their "autopilot mode" seemed pretty cool
– until Chief Executive Elon Musk said and we quote direct from the article –
– "should exercise caution while using it -It should not hit pedestrians, hopefully," he told the media. "It should handle them well."
He added that if the car is involved in a collision, the driver is still liable.
"The driver cannot abdicate responsibility. That will come at some point in the future."
Maybe the future is not quite as bright as it first appeared.
At GFD HQ we sell doors and the whole "Back to the Future thing got us thinking about what we could expect your typical front door in both looks and operation in twenty five years time. We have already tried most materials , timber, UPVC, Metal and composites of all of the above, we have doors that eliminate draughts and enhance the thermal conditions in homes- we already have keyless locking systems and systems that operate by Apps from mobile devices – so what's left to improve.
At GFD HQ we believe we have the answer so here is our prediction for the front door of 2040
Material – both door and frame will be a Perspex type material both will use fibre technology so that chameleon like the colour can be changed at will by the flick of a selector switch.
The door frame will be linked to air conditioning so that it will be temperature aware so when opened in winter the frame will create a curtain of warm air within the frame so as to eliminate any cold air ingress – the system will work in reverse blowing cold air in warm conditions – the system will also work to neutralise any potential draughts when the door is closed therefore maintaining just ambient selected temperatures within.
Locking and Hinging – the most radical change – we no longer think these will exist – the new system will incorporate electro magnets in the door and frame which will allow the door to hover in the frame when closed and lift out and slide aside when open – when closed the whole thing will be locked tight by those same electro magnets and it will probably all be either voice, retina or some other body part of your choice, activated operating system
Will GFD still be around and selling such futuristic doors – we hope so but an awful lot can change in twenty five years – the one thing we know for certain in 2015 is that our Solidor doors sold through our Timber Composite Doors web site are some of the highest quality and most competitively priced of composite doors currently available. If you cannot wait until 2040 to see if our "Back to the Future" prediction comes true we can supply you with a new door within a matter of days and by 2040 it should be just about ready for replacement, although we doubt that any future doors can improve upon the appearance of these beauties –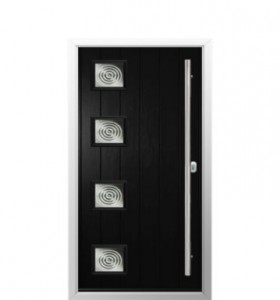 The Milano in Black
The Flint in Oak
With twenty nine styles in eighteen colours and a multitude of glazing and accessory options maybe we have it all wrong and nothing will change in the next twenty five years – maybe these superb doors from Timber Composite Door are already the door of the future.