Marigolds from Milan No 10in the Timber Composite Doors "Celebrate Summer" series of doors that money cannot buy
With over some 50 species to choose from the Marigold is one of the most consistent and cheerful signs of summer with flowers similar to daisy or carnation with either single double or massed flower heads in a range of colours from gold through copper to brass they brighten up any border. The Marigold is a flower with history which is extremely well described in the article from the National Garden Bureau and surprisingly the humble marigold does have Italian connections which is very fitting for our association with the Milano door one of the most stylish of the Italia Collection from Solidor as supplied by Timber Composite Door
The connection being the name Tagetes a name which can be traced back to the revered Italian god, Tages, a grandson of Jupiter, Tages came forth at ploughing time from a clod of earth as a wise and handsome boy, so the genus name Tagetes refers to an Italian god.
What can we say about Milan and the Milano door that has not already been said we waxed lyrical over the city and the door back in spring of 2014 in our blog "they say Milano we say Milan" – and why not – the Milano door in any colour when combined with the contemporary hardware range is quite simply a stunning door. In order to display the Milano in one of its more unusual styles complete with a Marigold motif we have chosen the unusual combination of a White door set in an Irish Oak frame with the 400mm straight chrome handle – we at GFD think it looks great – we are of course more than slightly biased because we think the Milano looks great in any of the colour combination and accessories that our "door designer" allows you the customer to mix and match
Just to prove its versatility here are a couple more options that have proved popular with customers who have already purchased –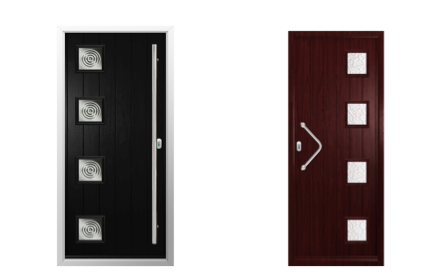 Black on white with bulls eye glass                           Rosewood door and frame with Arctic glass
Try it for yourself use our door designer to create the Milano of your choice or if you prefer there are a further twenty eight stunning styles to choose from which when combined with all of the colour, glazing and accessory options ensures that you will be able to design the door of your dreams.