Ask any Estate Agent and they will tell you first impressions do count when it comes to selling a home and that first impression starts with your front door – "Kerb appeal" in Estate Agent speak. If you are the owner of a recently purchased Timber Composite Solidor Door read no more your home already has all the" kerb appeal" it needs. If you have not yet purchased your new Solidor front door from the amazing range of styles, colours and accessories at Timber Composite Door, and you are concerned that your existing front door is looking a bit tired and world weary here are a few clever quick, easy and relatively cost-effective ways to improve the front of your home.
A touch of greenery
Plants in nice new shiny planters are a really good place to start a trip to your local Garden Centre a couple of Planters to match your front door colour, a couple of bags of compost and then the hard choice. Do you go for the all round evergreen or do you go the extra mile and pick plants of the season, it may mean four or five visits to the Garden Centre in a year to update your plant selection but you will be guaranteed (provided you are relatively green fingered) a wonderful display of colour whatever the season.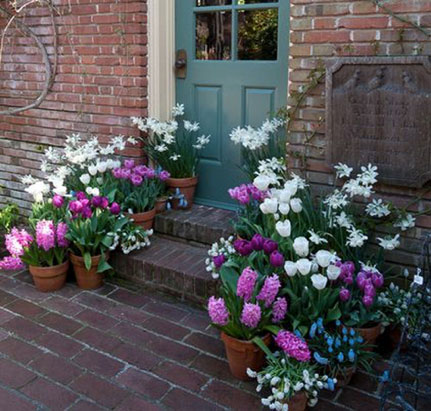 A touch of manmade greenery
 When Christmas comes around, we see plenty of wreaths adorning front doors but increasingly "garlands and wreaths are becoming the all year-round decoration of choice to brighten up the front door. Check out your local florist and you will find options of real and artificial and they can completely change the appearance of your home making it appear even more warm and welcoming. Of course, if you're one of the more creative amongst us you can make your own in your and that's sure to be a conversation starter with visitors to your home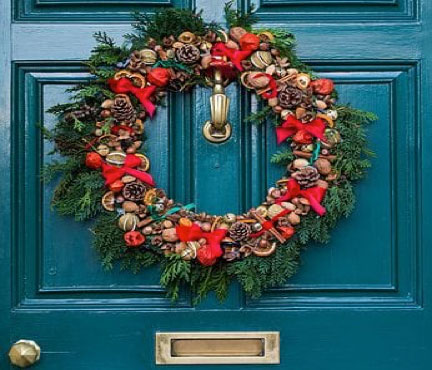 A Practical and stylish canopy
 A canopy over the front door is as practical as it is pretty and best of all it can keep the rain off both you when you are fumbling for your keys and your visitors when they are waiting to be granted entry. When you chose the canopy that compliments the styles and colours of the façade of your home it can greatly enhance the external appearance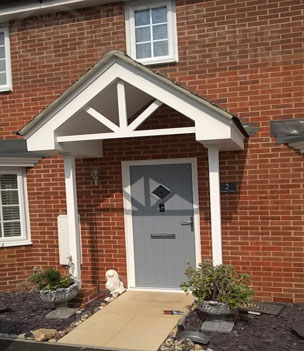 Lighten things up
A couple of Coach lamps adorning your front door always looks very classy but they are only one of a vast array of options available from your nearest specialist light fitting retailer. When the evenings are dusky or the night is dark an outdoor light always appears warm and welcoming and with a choice of bulb colour you can really personalise the entry to your home.
You do not have to stop at the door, light the way to your door with pendant or fixed solar lights or if you are really creative multi coloured LED lights can create quite an impact along your pathway.
.That's our four best suggestions for your existing door but we have saved the best to last –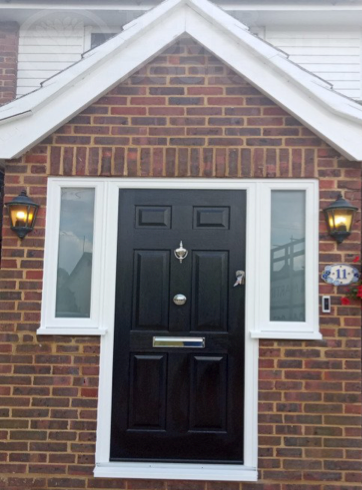 Renew your front door
In our opinion, but we are biased, nothing looks nicer than a new front door, clean lines new styles, fresh and vibrant colours and very few of them can compare with a new Solidor front door from Timber Composite Door with 23 different hues and over 50 different door styles before you consider the accessories we have more than sufficient choice to allow you to personalise your door plus you can have different colours inside and out.
When our doors look as good as these samples, Design, Price & Order Your Solidor Instantly Online