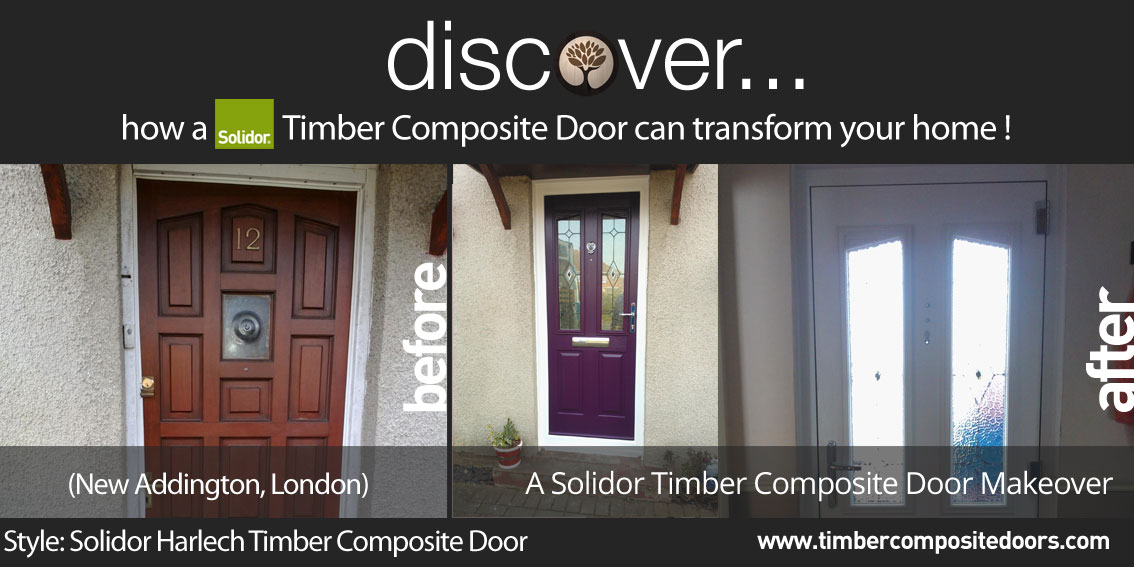 How Fashion Changes –
We at Timber Composite Doors would never as a general rule consider ourselves to be experts in fashion but there is one fashion trend that we can definitely confirm from our own every day experience and that is the move away from the natural timber look to the more exotic coloured look. A recent example of this trend being a door we recently fitted in New Addington – the original timber door was still serviceable if a little tired in appearance and in order to spruce up the appearance of his property our client chose one of our brighter colours Rich Aubergine and the door he chose was The Harlech one of the most popular of our Solidor range and we at Timber Composite Door have to say we think the result is stunning. The freshly painted white render, the clean lines of the white frame when combined with the rich aubergine finish make this a very welcoming entry to any home.
In choosing the Harlech this client chose a door that seems to know that it looks good, a door with bold lines and strong positive features that give it a unique masculine feel, a door that instantly gives the impression that it is ready to take on whatever the elements throw at it. The angled heads of the two top glazed panels point skywards and seem to further emphasise the strengths of this door style, particularly when any of the carefully selected glazing options with their use of strong vertical lines and geometrical shapes lines are chosen to enhance the door. The Diamond black design as used by our client for this door is a perfect example. The Harlech comes in a full range of colours from the strong dark colours which suit this style to lighter pastel colours which in this instance do not seem to detract from the strength of the door.
With so many new colours available it is not surprising that the fashions in door colours are changing our selection includes colours that cannot be found anywhere else, such as the 'luxury mocha' or 'duck egg blue'. There are even 9 colours available with a matching outer frame, so you can be as creative as you want when designing your new door