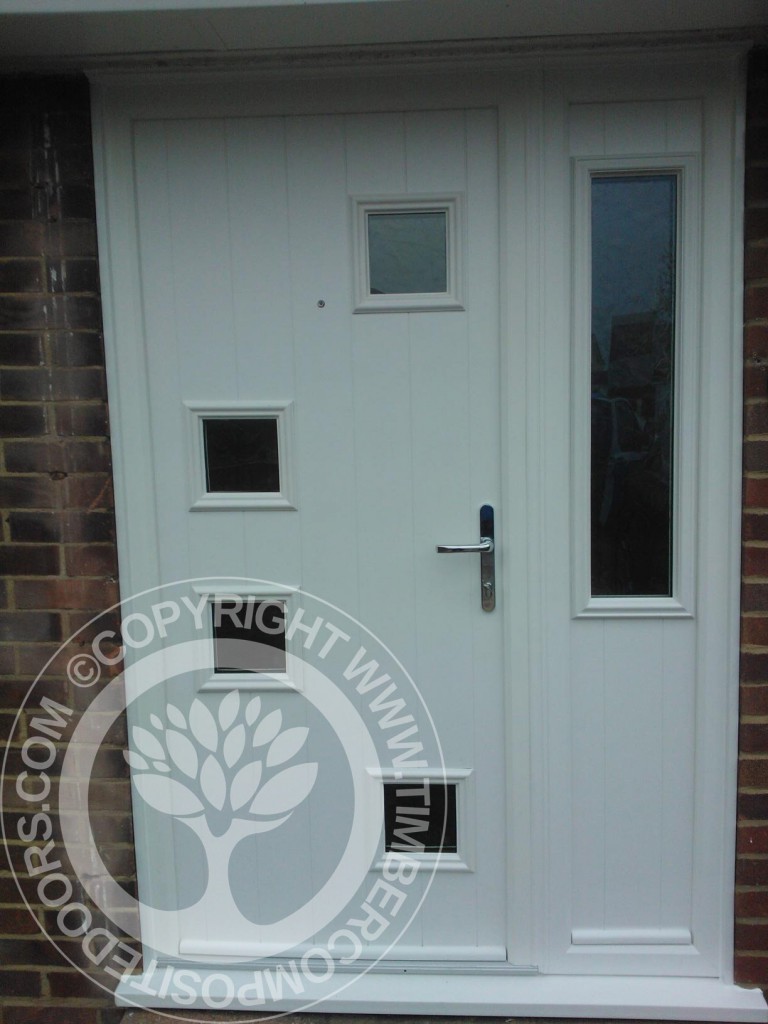 Modern living dictates modern styles, a statement which also applies when considering doors. For generations the typical "Englishman's home has been his castle" and the castle to which most of us  have aspired to has been a modest home of our own, with its own front door and a little bit of land for privacy purposes
With the resurgence of such properties as barn conversions, apartment and loft apartments often the more traditional patterns of doors do not fit with the "modern" living which requires a slick "Hi-tech" appearance. Developers of new builds both domestic and commercial, often choose contemporary styles to enhance their developments, providing a quality finish which is both aesthetically pleasing and enhances the value.
Entrance doors are the main focal point to any home or building's exterior, so, ensuring that the design and style suits its architecture is really important. The front door is one of the first design elements that guests see when arriving at home or office and it should be inviting pleasing in appearance and  match the properties exterior whilst still fulfilling its primary functions of providing security and being, durable and weather resistant.
A door is defined as an entry means that incorporates a locking mechanism and hinges, but what is a modern or contemporary front door is it modern or contemporary in its construction, or, should it be the style which dictates whether it is defined in this manner.
Style is timeless, classical appearance improves with age , today's contemporary door with the changes that make it look different in appearance will evolve into tomorrow's classic, meanwhile  the operating functions will undoubtedly continue to improve but their primary functions remain constant.
In the majority of instances, that which is considered modern or contemporary when describing a door is defined by –
The face finish -vertical grooved matchboard is currently very popular as are matt coloured flush faced doors all of which appear more dramatic with the careful use of glazing and down lighting.
The glazing – the size, the shape and the number of the external glazed panels, the use of coloured and patterned glass and more significantly the locations on the door face.
The hardware – which is invariably bold or brash and futuristic in appearance, with large expanses of brushed or anodised metal forming the back plates to the fitments.

The most recent development in contemporary door design  is the "composite door" with its use of new and innovative materials and a process of manufacturing using modern bonding techniques; this has provided the construction industry with a door which can be moulded to fulfil all the requirements of any contemporary design.
Doors which are strong /sturdy and virtually maintenance free.
Doors with pre-engineered frames that ensure a perfect fit every time
Doors which incorporate a hardwood reinforced sub frame, set around a high density polyurethane foam core which can be pre formed during the manufacturing process to mimic any size style with openings as may be required to create the door pattern of your choice, the diamond, the four square, the circle, the three square and the twin side are some of the most popular
Doors which because of their foam core provide high thermal and sound insulation benefits
Doors  which can be clad each side with a range of through coloured highly durable GRP skin styles grained or flush which will appeal to the most discerning or outrageous requirements of customers.
Doors with all of the correct and secure mountings for multi adjustable hinges and secure locking systems and whatever range of hardware and handles you may wish to incorporate.
The final choices to personalise the door rests with the customer, the colour and style of the door and its accessories, the entry and locking systems, the lighting,  the glazing these are the items that will make a door truly contemporary in appearance and dictate the classic styling of the future.
At Timber Composite Door we have already made our choice when it comes to choosing a Contemporary Composite Door we do not believe there is a door to match the Solidor Italia collection– it's a door that looks good anywhere and with twenty nine styles and seventeen colour options –some of which such as "Chartwell Green, Duck Egg Blue or Rich Aubergine" are unique to this range – with a choice like this why would you need to look elsewhere.
Check out the Italia range for yourself on our web site give us a call tell us your choice of door and leave the rest to us – because "the rest" is what we are good at here at Timber Composite Doors