And the most commonly asked question at this time of year is?
"What do you want for Christmas?"
Children generally have lists that would break the average bank if their dreams were ever fulfilled – adults are generally more refrained but there are very few exceptions among us who do not appreciate some show of affection no matter how small the present may be – come the big day.
We even give our pets presents and they do not understand the meaning of Christmas so what about the inanimate objects in our lives they do not understand the meaning of Christmas either – but do they not deserve some consideration when the festive time is upon us – after all they serve us well for all of the year.
Forget the car and the biggest and most inanimate object in one's life is ones home but do we consider giving it a present – some people do – the majority do not. Our home the place that keeps us warm dry and secure year in year out surely it deserves something new bright shiny and useful to make it feel that little bit more comforting.
New bright shiny and useful – here at GFD HQ we know something that fits that description perfectly plus –
it also offers guaranteed security –
enhanced thermal standards with the added benefit of helping saving on those heating bills
enhanced sound insulation qualities
It is strong durable virtually maintenance free and will last at least 30 years with just a little TLC.
It will increase the appearance and quite possibly the value of your home.
And of course you can purchase it online with or without finance terms from Timber Composite Door one of the GFD Group stable of companies (sorry about that but we had to work the Christmas association with stables in there somewhere)
This wonderful gift for your home can only be a new Solidor door from Timber Composite Door with a stunning range of twenty nine styles in a choice of eighteen colours and a multitude of glazing and hardware accessories any home would love one of these new front doors for Christmas – particularly when they look as good as these –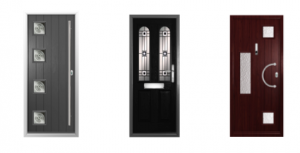 From right to left the Milano – The Nottingham and the Messina but all of our doors look great and if you would like to see how good they look in real life installations simply take a look at our gallery page as the song goes "a picture paints a thousand words"
Just to make it easy for Mr Clause all of our doors come as pre assembled shrink wrapped packages from the factory so if you choose a DIY installation you can still have the joy of ripping off the wrapping – however if you are a little more conventional and would prefer we carry out the installation the magic will not be lost when you gaze upon tour newly installed door for the first time.
Best of all you still have plenty of time to give your home this wonderful present just visit our web site or give us a call – place your order for a Happy Home Christmas and leave the rest to us.