A sparkling success for our installation teams – Fitted Timber Composite Doors
The minute we received the above photograph of a recent installation it stirred memories of a TV programme of the 90's – the original "Through the keyhole" with its original presenter Loyd Grossman – he of the nasal strange American voice and more latterly a self-named brand of "cooking sauces
We know Keith Lemon resurrected the programme in 2013 (respect Keith) but he does not have Loyds dulcet tones and the original is invariably the best, which brings us back to the above photograph and set us thinking as to how Mr Grossman would have described it – altogether now (for those who can remember) in your best droning "across the pond" nasal tones just as Loyd would say –
…………………………………………………………………………………………………………………………………………………………….
"Clearly this is a house of quality and considerable age dating back to the 1630's (when Charles 1 was King and England's first General Post Office was founded) – house that has endured so much history and is now lovingly maintained by its present owner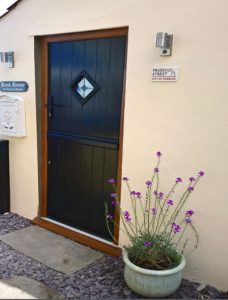 "Take a closer look at the plaque adjacent to the front door, is it a clue – (if only it was a real address) – the person who lives here clearly has a cheeky effervescent personality and a mischievous sense of humour – a connoisseur of the good things in life who enjoys popping the odd cork and bursting a few bubbles, in fact someone who appreciates style and quality
The entry to this personalities home is subtle and stylish, the understated planter, the ornate letter box, the grey stone chippings and then there is the door itself a design chosen to blend with the façade of the property – no matching colour for door and frame the differing colours scream of this persons individuality, the installation of the door is sympathetic to the age and quality of the building, blending sight lines to look natural with no scratches or blemishes a simple wipe with a damp cloth is all that is required to retain its natural beauty, perfect."
…………………………………………………………………………………………………………………………………………………………….
That's enough of the Loyd impersonation's, the real reason for this article is the follow up to the photograph – here at GFD Group, (Timber Composite Doors is one of the group) we take all of our customers very seriously – which is why we request that they submit TRUST PILOT reviews for their individual installations. We at GFD Group know we are not perfect we have the very odd day when something goes wrong and we always use our very best endeavours to ensure our customers are always happy with the final outcome of their installations. In the main our customers give us good reviews normally 4/5 stars but every now and then we excel – step forward and thank you Mr M Kitching –
Mr Kitching is the owner of the beautiful period cottage used in our initial photograph it is his home and he is justifiably proud of it and form our perspective it is pleasing to be made aware that our installation team showed the correct level of professionalism and due diligence and care whilst installing Mr Kitching's new front door 
M Kitching just left a new 5-star review of Timber composite doors:
"The recent purchase of our composite door ran smoothly from choosing the type and style to the fitting.
We own a old house dating back to 1635 and all that goes with a property of that age but your fitters got over any issues, they were friendly, efficient and clean leaving us with a door and frame that exceeded our expectations."
If we can get it right for Mr Kitching we can get it right for you read Mr Kitching's review and many more on our TRUST PILOT page we will be pleased to provide and install a new front door for you whenever you are ready.