It's good to be back, no more turkey, Christmas pudding and general overindulgence – here in the GFD Offices we are back to the regime of Gym, diet and hard work (HA HA) and it certainly feels good (more Ha,Ha's)
After all the well-wishing, backslapping and handshakes we settled back into the routine first priority read and address the mountains of "e" mails, which had arrived whilst we were away from the office having a good time.
2016 had ended on a pretty good note sales were buoyant moral was high everything was good – that is apart from two customers who were rather at odds with the way we viewed Christmas – but that was last year and we all thought it was behind us – until an anguished cry echoed through the office followed by the dreaded words – "they're back"
With some trepidation – after their last response we crowded around the terminal to see what the dreaded duo had to say now –
…………………………………………………………………………………………………………………………………………………………….
Dear Mr Richardson
May we begin by offering all at Timber Composite Door a Happy and a prosperous New Year – and a small apology – in our final mail of 2016 we may have been somewhat over critical on your take on Christmas having read all of the additional attachments you included in your response we now appreciate the difficulty of your task. We now realise that you are simply trying to add a little humour to the festive season – it must be difficult to write endless blogs about something as boring as a door – we have to admit we found your "nativity stories" quite amusing.
During the Christmas break, we actually took the opportunity to visit the content of your web site (rather than just your blogs) and we were pleasantly surprised at both the quality of product and the volume of information contained therein – as we have both been under some pressure from our better-halves to change our front doors we think we can safely say that you can look forward to a couple of orders upon your return in the New Year
Yours
Disappointed of Dulwich and Mr Basil Andrew Harrison Umbug
PS That American "pop group" the Pentatonix are growing on us maybe you could use a little more of them next year
…………………………………………………………………………………………………………………………………………………………….
A collective sigh went up from all followed moments later by a whoop of delight as a review of "online" orders placed over Christmas showed an order from Disappointed of Dulwich for –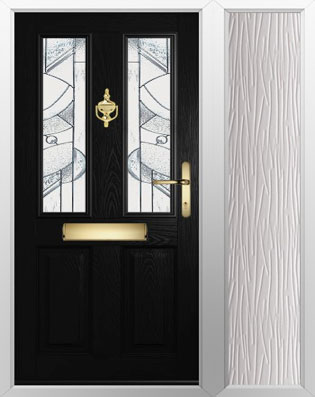 A rather nice Ludlow and side panel in black with gold accessories
And from Mr Basil Andrew Harrison Umbug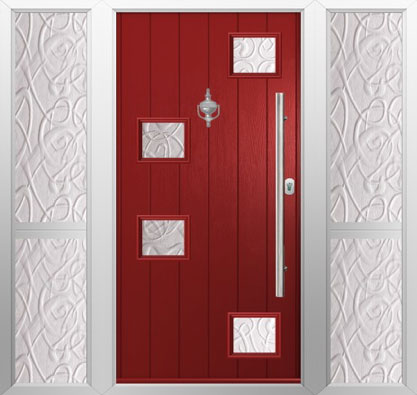 An equally nice Modena with twin side panels in red with everglade glazing and contemporary accessories
We would like to be able to say that we shall treat these two orders with extra care after all the trouble they gave us at the end of last year but unfortunately that is something we cannot do – not because we don't care- BUT BECAUSE WE TREAT EVERY ORDER FROM EVERY CUSTOMER WITH 100% CARE. We shall of course send Messrs Disappointed of Dulwich and Mr Basil Andrew Harrison Umbug a polite and thankful mail wishing them a Happy and prosperous New Year and thanking them for their orders and inviting them to review our blogs for the forthcoming year.
If Messrs Disappointed of Dulwich and Mr Basil Andrew Harrison Umbug find it so easy to order from their armchair – so could you – why not review our Timber Composite Door web site now – maybe it's time you also considered a new front door.