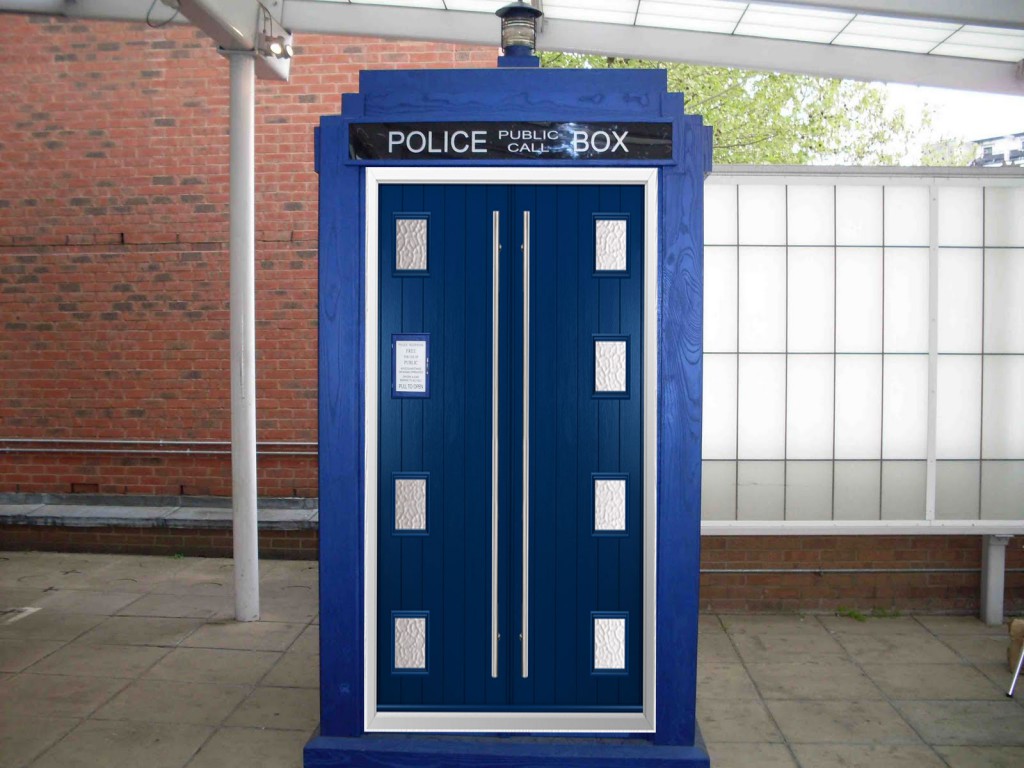 That guy who called us the other week and would not give a name other than "Hoo" whom we believed might actually be the real Dr Who has confirmed our suspicions by sending a photograph of his newly installed door – who else would put a beautiful pair of Blue Milano doors on a blue box.
We have to admit that whoever he contracted to do the refurbishment did a pretty good job as anyone can see this Tardis looks as good as new. And we were very impressed at the matching of the blue paintwork. If the picture was not recommendation enough from the great man, he excelled himself when he did as requested in our previous article (Ian a link to previous here?) and placed his own testimonial on Trust Pilot – we were so impressed we copied it here for all to see.
OUT OF THIS WORLD

 

Yes "out of this world" is the only way I can describe the quality and service provided by Timber Composite Door. The door arrived on time and everything was perfect – easy to fit love this stylish Milano far better than the old door I wouldn't hesitate to recommend these guys to anyone in fact I already have.

Took the new Tardis for a trial run to get the hang of the new consul and bumped into a few old friends – the OODS – wrote a song about the new door – The Cybermen as you would expect tried to kick it in – the Weeping Angels – tried to turn it to stone and of course the Daleks tried to exterminate it

But most of all they all loved it and thought it brightened the old Tardis up a treat in fact I would not be at all surprised if Timber Composite Door were to receive a few more orders for their "out of this world" doors

We like to think our doors are "out of this world" and that they are tested against the most persistent intruders!