Composite door pictures how do they compare to the real thing.
The World Wide Web is a wonderful way to display any product and Composite Doors are a typical example
Composite door pictures as they are now reproduced on a typical web site give a pretty good representation of how your door will look – true or false ?The continuous development and growth of the internet and the capabilities of digital reproduction have made this a very relevant question. With the exception of the under "thirty something's" the majority of adults have grown up with the concept that shopping is a "hands on" experience where you are free to touch feel and inspect the quality of the goods to be purchased, but with internet shopping this is no longer the norm.
When you visit our Timber Composite Door Gallery Page you will find that before you hit the images we invite you into the page with the title "A picture paints a thousand words" we unashamedly take our inspiration from the first four lines of the lyrics of the "Bread" classic song by David Gates –
If a picture paints a thousand words
Because to all of us here at GFD HQ The home of Timber Composite Doors that is the way we feel about our doors – we do not simply do flat featureless images – everything you see on our Gallery page comprise actual photographs taken by our installation teams – part of their remit is to provide before and after photographs – we have covered a considerable number of these before and after installation images in our blogs see "enhancing your home with a Solidor Milano door " or
"Let the light shine in with a Solidor Tenby door"   which are two of numerous posted examples.
Our Gallery pages cover every style of door all in actual installations – simply click the style you require and the page will open to show a sample of our images of installed doors of your chosen style in various colours and with differing options of glazing and accessories – we do not think that there is any better way to showcase our doors.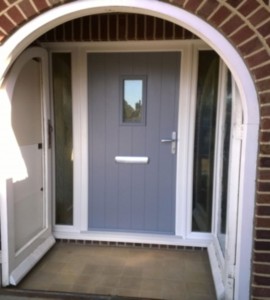 With photographs as good as this typical Flint door with side panels in Grey recently installed in Christchurch we are simply demonstrating how good our doors can look.